In response to Disney pulling political donations due to Florida's new "Don't Say Gay" legislation, Lieutenant Governor Jeanette Núñez on Friday claimed that companies "have no right to criticize" the state's action.
Making an appearance on Fox News' The Ingraham Angle, Núñez derided Disney's decision as "woke" and likened it to bullying while also claiming that such companies do not have the right to critique the actions of "duly elected legislators" despite explicit First Amendment protections.
"They will try to bully us like the NCAA did, like Disney [is] doing," she said. "How dare they. They have no right to criticize legislation by duly elected legislators that are passing common-sense legislation."
On March 4, Disney CEO Bob Chapek responded to the "Don't Say Gay" legislation and claimed during an annual shareholder's meeting to have reached out to Governor Ron DeSantis about it. Chapek said that the governor assured him that the bill would not "unfairly target gay, lesbian, nonbinary, and transgender kids and families." This response, which failed to condemn the bill and seemed too comfortable with the intention of DeSantis' government, was ill received by the LGBTQ community and other critics.
Earlier on Friday, in response to public and internal backlash to Chapek's initial handling of the situation, Disney announced that it would be halting political donations in Florida. The company also said that it will "immediately" begin pledging support to movements against similarly anti-LGBTQ legislation in other states.
Disney, which is known for touting LGBTQ inclusion in all facets of its business, came under fire in recent weeks after it was found that it had donated money to the campaigns of politicians who pushed for the "Don't Say Gay" bill. An analysis by The Independent found that company entities donated at least $50,000 to a political action committee (PAC) tied to DeSantis; and $4,000 each to the 2022 reelection efforts of state Representative Joe Harding and state Senator Dennis Baxley, who were the chief sponsors of the bill. It was also reported that at least $5,000 was donated to Núñez's campaign across 2017 and 2018.
Following Chapek's condemnation of the bill on Thursday, DeSantis called the move "pressure from 'woke' corporations" and accused a "fraudulent media narrative" of misrepresenting the bill.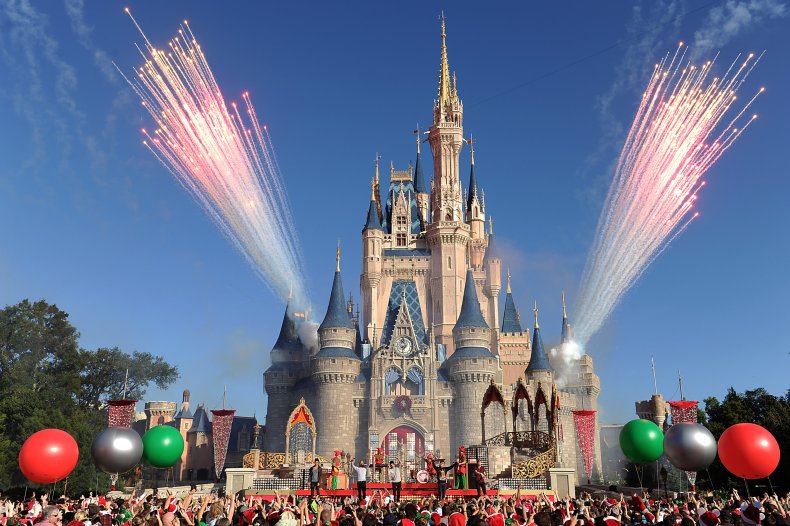 Officially known as the "Parental Rights in Education" bill, the recently passed legislation prohibits "sexual orientation or gender identity" education for any K-3 students and any discussion "that is not age-appropriate or developmentally appropriate for students" in all other grades.
DeSantis and Núñez have also targeted Disney's business dealings with China in their retaliations. Like all major film studios, Disney did significant overseas business in China over the last decade, often tailoring the content of its films to the standards set by the Chinese government.
Newsweek reached out to Disney for a response to Núñez's comments.