And how does it relate to Ron DeSantis's beef with the Mouse?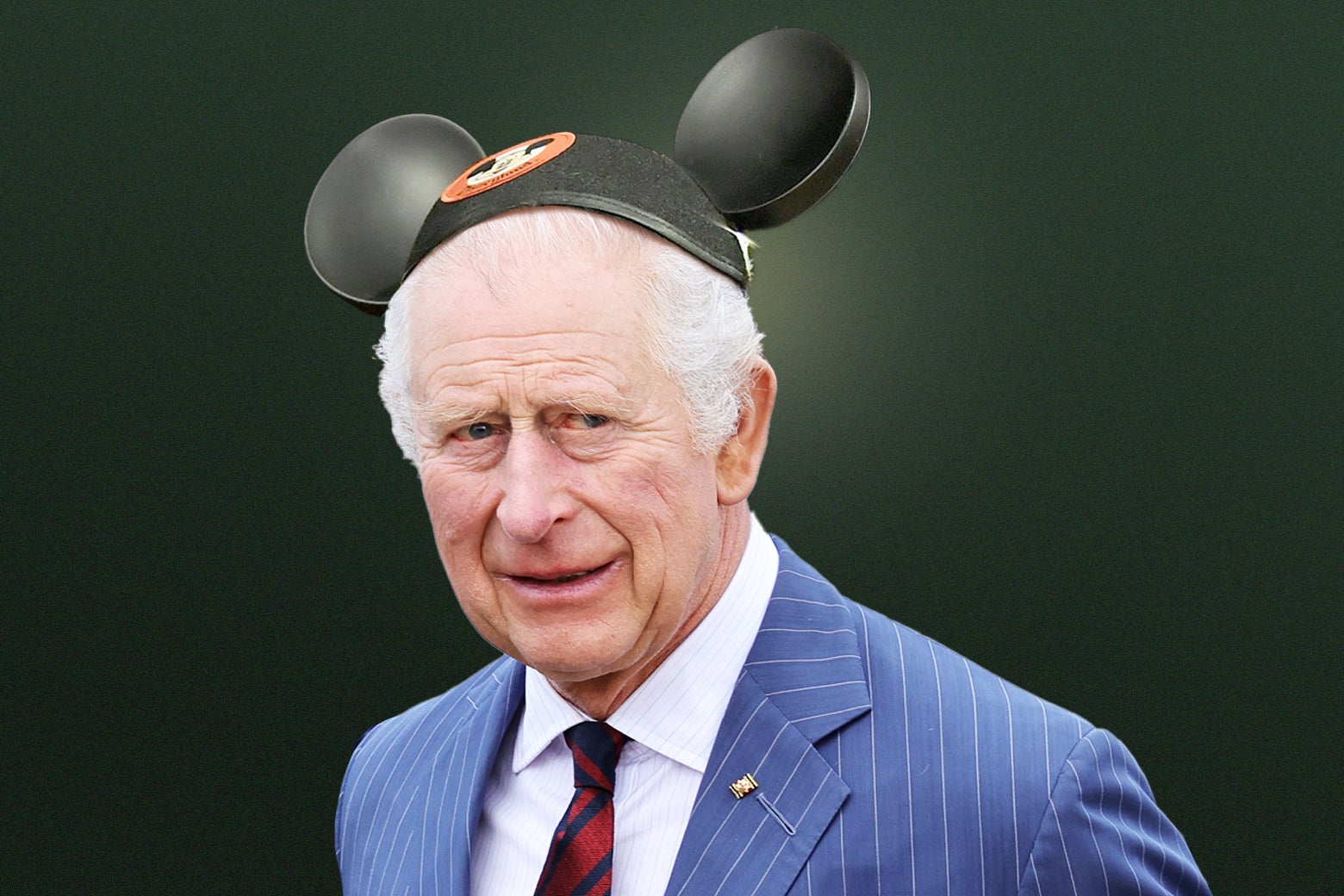 Disney has made sure it's the king of its castle…er, self-governing district…for as long as possible. In the ongoing feud between the multi-billion dollar entertainment empire and Florida Gov. Ron DeSantis, Disney has found a loophole that may help it keep control over the special tax zone that encompasses Walt Disney World. And that loophole involves King Charles III.
More specifically, the board of the neighborhood surrounding Disney World—which was, until recently, basically controlled by Disney—was replaced by DeSantis in a retaliatory move. But before the members of the old board were replaced, they embedded a clause in one of their legal documents that would essentially strip the next board of much of its power "until twenty one (21) years after the death of the last survivor of the descendants of King Charles III, King of England living as of the date of this declaration."
Huh?! Yeah, us too.
Remember when DeSantis was really not happy that Disney had been vocal about opposing his "Don't Say Gay" bill, which was a blatant attempt to censor classroom instruction about LGBTQ life? And how he has been trying to get back at the corporation, in various ways, including by tying them explicitly into his war on "woke"?
One big way was by putting his own board in charge of Disney's self-governed tax zone, which was called the Reedy Creek Improvement District.
This week, when the newly appointed board members of DeSantis's Central Florida Tourism Oversight District (yes, it has been renamed) convened for the first time, they realized that Disney had pulled a fast one on them. A month earlier, Disney and its former board signed an agreement that gave Disney the ability to build high-density projects or buildings of any height and to sell or assign development rights, without board approval.
The agreement also included a Royal Lives Clause, a centuries old legal tactic from the UK, that extends the life of the agreement. In this case, it maintains that Disney's control may only be terminated about two decades "after the death of the last survivor of the descendants of King Charles III, King of England living as of the date of this declaration."
That basically means Disney can hold on to power of this land for possibly the next 100 years, if one of King Charles III's grandchildren lives to be 80. Oh, and the agreement also bans DeSantis' new board from using Disney's name or any of its characters.
The Royal Live Clause was historically used to ensure a trust could continue for as long as legally possible; royals were tied to the timing of trusts because they tended to have a longer life expectancy than non-royals and have a family tree that's fairly easy to trace.
Disney drafted the agreement with the Royal Lives Clause before the Florida legislature passed the bill giving DeSantis's control over the board. His administration just didn't realize it until over a month later.
After the clause was discovered, Disney put out a statement defending it, saying it was appropriate and that it was "discussed and approved in open, noticed public forums in compliance with Florida's Government in the Sunshine law." That's true: The Orange County Comptroller's office has a record of Disney's agreement on its website dated Feb. 9.
DeSantis may strike back: "We are pleased the new Governor-appointed board retained multiple financial and legal firms to conduct audits and investigate Disney's past behavior," his office said in a statement this week. But for now, the Magic Kingdom is still making magic.