With strong fundraising totals and good polling numbers, Florida's Democratic U.S. Senate candidate Val Demings is passing up an appearance alongside the president at his Orlando rally next week to focus on outperforming Republican Governor Ron DeSantis in the state.
President Joe Biden is headed to Demings' hometown on Tuesday to stump for Charlie Crist, the Democrat looking to unseat DeSantis, in a battleground state that has become increasingly Republican. But Demings, who currently serves in the House, won't be in Florida to meet with the president in the final weeks leading up to Election Day.
Instead, the congresswoman will remain in Washington, D.C., per her campaign.
Demings isn't avoiding Biden or his support, it's just that campaigning alongside the president isn't a priority.
Polls show her in a tight race against incumbent Senator Marco Rubio, who is only up by 2 points, according to the latest poll from Civiqs this week. Crist, on the other hand, is trailing by a much larger margin behind DeSantis.
Demings' campaign also has a greater financial advantage than Crist's, holding just as much cash as Rubio, while Crist is up against DeSantis' $120 million fundraising total, the largest amount for any U.S. statewide race, according to NBC News.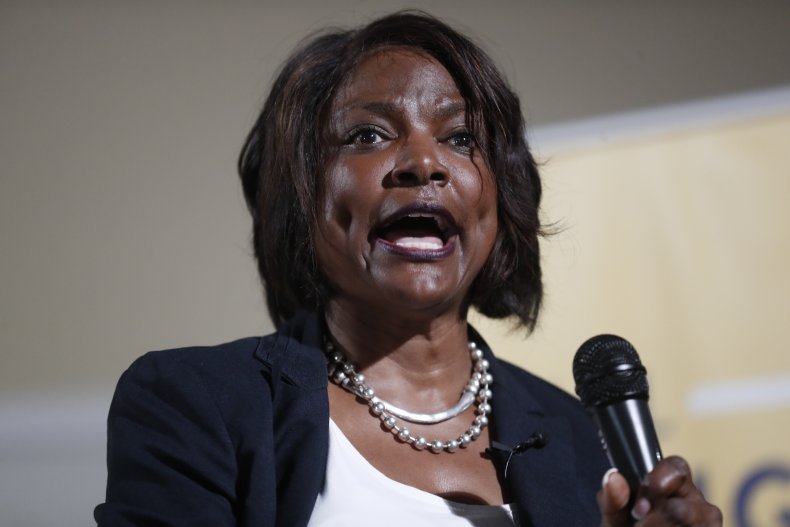 "The potential reelection of Ron DeSantis and Marco Rubio would make the state of Florida ground zero for the national Republican Party," David Paleologos, director of the Suffolk University Political Research Center, said in a Wednesday press release.
Holding onto her well-established position, Demings is more focused on taking down Florida's governor—a man who has built a national profile and become the biggest Republican challenger to a 2024 Trump run—than being associated with Biden.
Biden's approval rating has finally begun improving in recent weeks after a year of being underwater, but polls suggest the boost isn't enough to overcome support for DeSantis.
In a hypothetical 2024 Biden vs. Trump rematch, the Democrat is only behind Trump by two points among Florida voters, according to a new survey from Suffolk University. Trump won Florida in 2020 by about 3 points.
However, when Biden's name is up against DeSantis', the GOP advantage rises to 8 points.
Rather than trying to appeal to Biden's base, Demings is looking to mount an offensive attack on DeSantis' Florida and win crossover voters.
"As a Florida Democrat, it's sort of a 'damned if you do, damned if you don't' situation," a Democratic politico from Florida told Newsweek about candidates aligning themselves with Biden. "It's hard for local candidates and members of Congress to break through on talking about how some of the important legislation that has been the president's priorities has meaningfully improved the lives of Floridians."
She said that while the president has the power to break through to voters in a way no other politician can, "most of the Democrats in swing states, in this state, are outperforming [Biden] on the ballot and need to do so."
Polls show that the Democratic candidate with the biggest disadvantage on Florida's ballot is Crist, which could explain why the former governor is looking to Biden for help.
"The calculation for Crist is 'I'm down 7 points; I have to win an inside straight here in this poker game,' and maybe if Biden's numbers continue to come up—and they are rising—it will be a wise move at this snapshot at time," Paleologos told NBC News. "But it's a risk he needs to take to get whatever media attention he gets."
Update 09/22/22 4:20 p.m. This headline was updated to reflect Demings' focus on multiple races in the state.