Jenna Ellis, who previously served as Donald Trump's attorney, defended Florida Governor Ron DeSantis' silence as the former president faces a possible indictment in New York.
Trump said on Truth Social on Saturday morning that he believes authorities will arrest him on Tuesday following Manhattan District Attorney Alvin Bragg's investigation into an alleged 2016 hush money payment made to adult film star Stormy Daniels over an alleged affair between the two, which Trump has denied. Specifically, prosecutors are looking into whether the payment made by Trump's campaign violated campaign finance laws. Meanwhile, the former president has slammed the district attorney's investigation as a politically-motivated "witch hunt."
Although many Republicans have spoken out against Bragg's investigation, some of Trump's top potential 2024 rivals, including DeSantis, who has not yet announced if he plans to run for president, and former United Nations ambassador Nikki Haley, have remained mum on the potential indictment, sparking outrage from some conservatives.
Vivek Ramaswamy, a businessman who is running in the GOP presidential primary, on Sunday called on GOP candidates to denounce the possible indictment.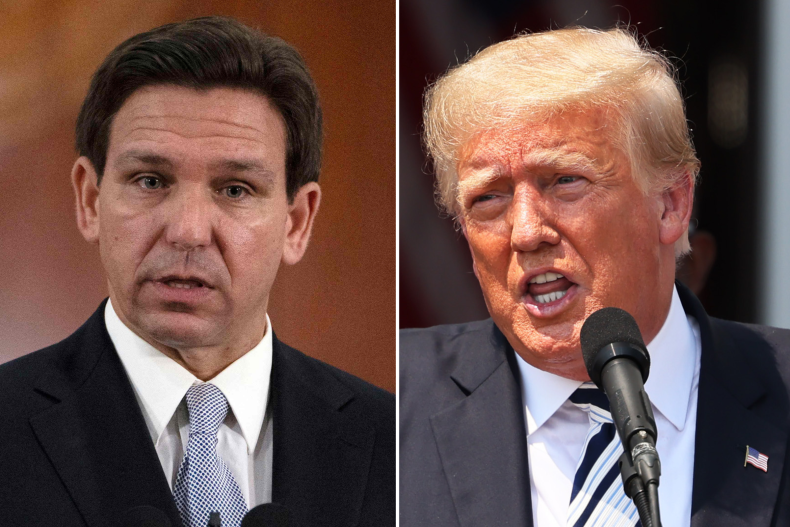 "I called on my fellow GOP candidates @RonDeSantisFL and @NikkiHaley to join me in condemning the potential Trump indictment because those of us *running against Trump* can most credibly call on the Manhattan DA to abandon this disastrously politicized prosecution. I pray that the DA does the right thing: we're skating on thin ice as a country right now. We need a national revival, not a national divorce," Ramaswamy tweeted.
However, Ellis, who worked as a legal adviser to Trump's 2020 reelection campaign, defended DeSantis in a response to his tweet, reiterating that the Florida governor has not formally announced a presidential bid.
"Ron DeSantis isn't a candidate though," Ellis wrote. "The Trump PAC just slapped him with an ethics violation for (supposedly) acting like a candidate when he isn't one, and now the base wants him to act like one? Can't have it both ways."
Ellis referred to a filing from a pro-Trump PAC that accused DeSantis of running a "shadow presidential campaign," which they say would violate Florida state ethics laws, including one that would require him to resign from his position as governor to run for president.
Ellis added that she believes DeSantis is "being smart and acting like a governor" by not weighing in on the case.
Meena Bose, the executive dean of Hofstra University's Peter S. Kalikow School of Government, Public Policy and International Affairs, told Newsweek Sunday that potential presidential candidates may have a "natural reticence" of not speaking about a legal investigation.
"I think most likely, the former president's intraparty opponents, or the Republican presidential candidates, at this stage in this legal and political process, it seems like a safe strategy simply to focus on your own campaigning and see how the legal process unfolds," Bose said.
Other conservative influencers, however, called out DeSantis for not offering a rebuke of the investigation. Conservative radio host Sebastian Gorka recently posted on Truth Social: "So is DeSantis going to say anything? Curious." While Gettr CEO Jason Miller tweeted on Saturday that there has been "radio silence" from DeSantis and Haley.
In a press release sent by email on Saturday, Trump's campaign also highlighted silence from potential or announced 2024 contenders. "We have yet to hear from Ron DeSantis, Nikki Haley, Mike Pompeo, Tim Scott, and others," the statement reads.
When reached by Newsweek, a DeSantis spokesperson pointed to DeSantis' remarks on the matter made Monday morning.
"I have not seen any facts yet, so I don't know what's going to happen," DeSantis said, saying he believes Bragg "weaponized his office to impose a political agenda on society."
Newsweek reached out to the Haley campaign by email for comment.
Update 3/20/2023, 12:32 p.m. ET: This story was updated with comment from a DeSantis spokesperson.