Donald Trump has shared a poll indicating he would comprehensively beat Ron DeSantis for the 2024 Republican nomination for president amid continuing speculation the Florida governor is planning on announcing his candidacy.
The former president shared the results of a recent Zogby Poll on Truth Social on Wednesday that indicated that he is still an overwhelming favorite to clinch the Republican nomination should he choose to run.
The survey shows Trump has the backing of nearly 54 percent of votes from Republican primary voters—just under five times the amount that second place DeSantis received (11.5 percent).
DeSantis and Trump have long been considered to be the main frontrunners who will throw their hats in the ring for a 2024 run, with the former president dominating almost every poll in which the two are a hypothetical match-up in a GOP primary.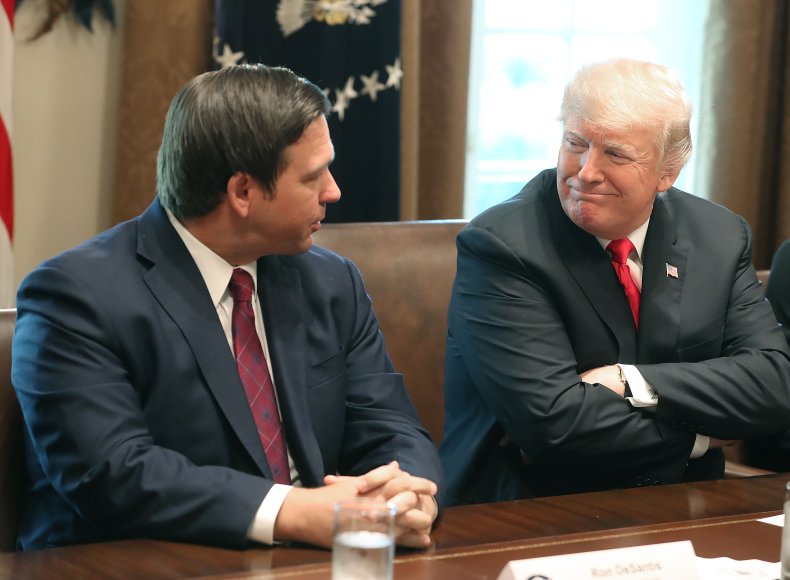 However, DeSantis has started seeing some improvements in surveys, with bookmakers also dramatically slicing odds earlier this year on him eventually becoming president.
On Wednesday—the same day Trump shared the Zogby Poll on Truth Social—a public opinion survey in New Hampshire revealed that 39 percent of Republican primary voters would like to see DeSantis as the GOP presidential pick, with Trump closely behind on 37 percent.
"Trump slipping in pre-primary polls is part of a typical pattern," said Andrew Smith, director of the University of New Hampshire Survey Center, who conducted the poll.
"A party's losing candidate in the prior election is typically the best-known person in the party. As the primary gets closer, new candidates emerge and attract more media attention, and therefore more voter attention, than the losing candidate from the previous election."
DeSantis received a boost on June 5 after he beat Trump in a straw poll at a conservative summit in Colorado for the second year in a row.
There have also been suggestions that DeSantis is starting to distance himself from Trump ahead of a potential 2024 presidential bid.
According to a recent Politico report, DeSantis will not be seeking a highly sought-after Trump endorsement as the Florida governor hopes to win reelection in November's midterm.
While DeSantis' standing in the GOP does appear to be rising outside of Florida, he still has a long way to go if he aims to topple Trump as the leading candidate for the Republican presidential nomination in 2024.
According to a collection of national surveys since November 2021, compiled by Polling USA, as of June 16, Trump's average polling stands at 55.3 percent, with DeSantis a distant second at 19.3 percent.
Trump also dismissed DeSantis' chances of beating him in a lengthy New Yorker piece that discussed whether the governor can replace the former president as the biggest name in the GOP.
"I don't know if Ron is running, and I don't ask him," Trump said. "It's his prerogative. I think I would win."
DeSantis has been contacted by Newsweek for comment.