The tropical disturbance in the Atlantic Ocean that had potential for developing into a greater storm has done just that. Tropical Storm Fred developed just south of Puerto Rico late Tuesday night. Now, as it aims toward a Florida that's dealing with a record COVID outbreak, it could strengthen into a hurricane by this weekend.
The storm's path cone is still wide when it comes to entering the Gulf of Mexico or hitting Florida, but all of South Florida is in the uncertain cone. This comes as the state grapples with excruciatingly-high numbers of new COVID cases and a record number of hospitalizations.
The National Hurricane Center stated that Fred will create tropical storm conditions in parts of the U.S. Virgin Islands and Puerto ​​Rico on Tuesday night, and that it will continue to develop across the Caribbean waters as it approaches the Dominican Republic and then Cuba by mid- to late-week.
The current projected path has Fred moving northward into the Florida Keys and then either westward into the Gulf, northward up the west coast of Florida or easterly into Miami and the east coast of Florida before faltering in the Atlantic Ocean.
The 11 p.m. ET update states that Tropical Storm Fed has maximum sustained winds of 40 mph near the eyewall, and that the storm is moving westerly at 17 mph. Warmer waters and few land interferences could help Fred gain strength to almost hurricane status, which happens when winds hit 74 mph.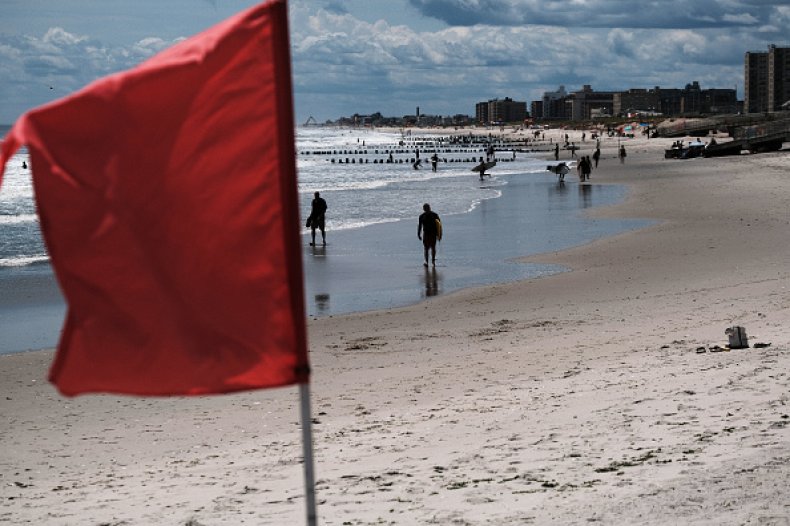 This is happening as COVID-19 cases surge in Florida, reaching record levels almost every day last week.
The state's health department reported 134,506 cases of the virus between July 30 and August 5, including 175 deaths. This included a new record of 23,903 cases reported on Friday, and a whopping 13,747 hospitalizations from the virus by Saturday (Aug. 6).
The state's government has been in a tussle with local lawmakers over whether to mandate wearing masks or not. Florida Republican Gov. Ron DeSantis said making masks mandatory would underline the effectiveness of the vaccine.
​​"The federal government has no right to tell parents that in order for their kids to attend school in person, they must be forced to wear a mask all day, every day," DeSantis said. "Many Florida schoolchildren have suffered under forced masking policies, and it is prudent to protect the ability of parents to make decisions regarding the wearing of masks by their children."
Meanwhile, hurricane prognosticators have predicted a busier-than-normal season for tropical storms in the second half of hurricane season. Hurricane season, by the calendar, is June 1 — November 30. Meaning that a busy hurricane season could hit Florida just as the coronavirus starts to spread rampant once again.
Fred is the sixth named storm of the Atlantic season, and just the first since Elsa developed into a Category 1 hurricane in early July before downgrading into a tropical storm and slamming the western Florida coast. Elsa worked its way up the eastern seaboard of the U.S. last month, hitting the Delmarva area and eventually New York City and New England before fizzling out in Canada.