The Florida people are about to witness the wrath of a massive hurricane named Ian, which has already destroyed Cuba. Tampa Bay Buccaneers quarterback Tom Brady recently talked about the hurricane and its impact on the people of Tampa.
In his podcast, 'Let's Go', Brady revealed how their team is going to deal with the situation by escaping to Miami and practicing there for the week until the hurricane passes. Notably, the officials are saying the hurricane will make landfall in Florida on Wednesday afternoon or in the evening.
ADVERTISEMENT
Article continues below this ad
Tom Brady discusses hurricane 'Ian' and the Bucs' alternate plan to practice
Speaking about the hurricane and the team, Brady said, "A lot of people in this Tampa area, sounds like they are gonna be affected by the hurricane that's coming. I know our team is making some adjustments to our schedule." He also sent a heartfelt message to the people of Tampa, as he said, "You know we had covid for a couple of years and now with this seems like pretty intense hurricane coming our way. I don't think Tampa is probably, I don't think any place is well suited for a hurricane to hit. But everyone in this area will be in our thoughts and prayers as we go through it."
Speaking about the Bucs' alternate plan to practice, Brady added, "We are team is gonna have to adjust go to Miami and practice there for the week and hopefully, we can come back later in the weekend and play against the Chiefs Sunday night. So, a lot of things can happen in a short period of time, but I think it's suited for all of us to stay adaptable to the situation."
According to the officials, this will be a category 3 or 4 hurricanes and will be a life-threatening storm. Notably, the speed of a category 3 hurricane is around 120 mph and a category 4 hurricane speeds between 130-156 mph. The wind gusts are already increasing and in some parts, it's already around 50 mph, as per several reports.
How did Brady prepare for the hurricane?
ADVERTISEMENT
Article continues below this ad
In his podcast, Tom Brady revealed that it's difficult to prepare for a storm like this. However, he still had to prepare, as the QB said, "I know I have been preparing all morning getting all my stuff outside, trying to put it inside, trying to get all my stuff from the ground level, up a little bit higher up right here on the base. They are talking about pretty high storm surges and it's a scary thing."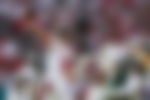 Meanwhile, Brady and the Bucs suffered a tough loss this past Sunday, as they lost to the Packers in a tight game. Bucs' wide receiver, Mike Evans, was already out of the game due to suspension. Moreover, Brady was also suffering from a finger injury. Currently, he is playing through this injury and will take on Patrick Mahomes' Chiefs on Sunday.
ADVERTISEMENT
Article continues below this ad
Watch This Story: Head coach Todd Bowles comments on Tom Brady' Wednesday practice appearance even though reports suggested otherwise
Will Brady and the Bucs come back to winning ways against the Chiefs? Let us know in the comments.