A Florida man who was reported missing by authorities and also wanted on a murder charge was found running down the shoulder of a highway less than an hour later by police.
Miguel Felix Hernandez, 45, was classified as an "endangered person" by the Hillsborough County Sheriff's Office after he left his home on Thursday night and threatened self-harm. Authorities believed he could be traveling to Fort Myers.
But less than an hour after police announced they were looking for Hernandez, they said he had been found.
On Friday morning, a Florida Highway Patrol trooper in Columbia County was heading into a training session in the westbound lane on Interstate 10 near Lake City, the Tampa Bay Times reported, when he noticed a man running down the shoulder of the highway. It was around 6:30 a.m. and the man was carrying a flashlight while traveling in the opposite direction on foot.
As the trooper continued driving, they noticed an abandoned blue Mini Cooper with its hazard lights blinking near a grassy shoulder by the roadway. According to the arrest report, the trooper proceeded to pull off the road and approached Hernandez to see if he needed help.
Hernandez was asked if he needed any help with his vehicle but the trooper noted in documents that the man seemed "extremely erratic" as they spoke. The trooper decided to run a background check using Hernandez's driver's license and learned the man had been reported missing after making "threats of violence and self-harm."
After driving back to Hernandez's Mini Cooper, the trooper learned that the license plate was connected to a homicide investigation in the city of Doral in Miami-Dade County, the arrest report states.
The trooper brought Hernandez into custody along with his car and two cell phones that were collected for evidence. Hernandez was booked into the Columbia County Jail on charges of first-degree murder and attempted first-degree murder. He will be extradited to Miami-Dade, according to the arrest report.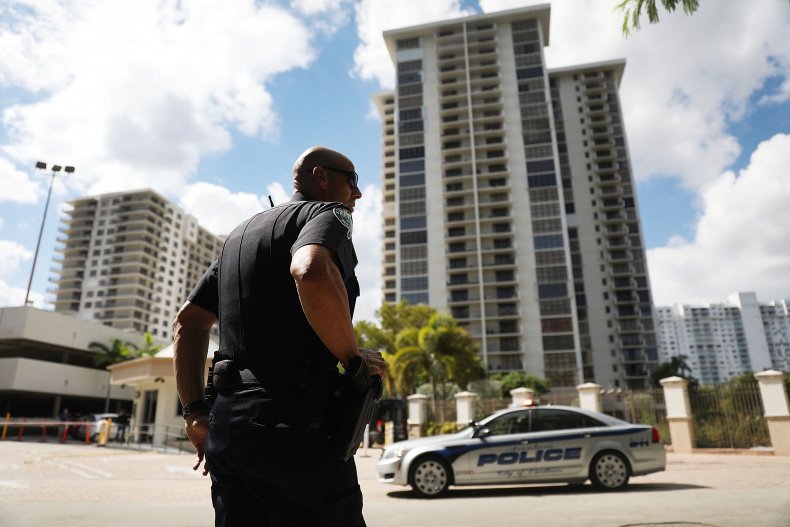 Investigators believe that Hernandez is responsible for the shooting death of a 58-year-old woman at a home in the gated community of Grand Bay Estates. The arrest report said that she did not live there but arrived at the home with a handyman to complete hired work.
Police said that about 8:40 p.m. Thursday, a man they believe was Hernandez knocked on the door and asked the homeowners if he could speak with the woman by name. When she arrived at the door, an argument started and Hernandez allegedly shot and killed her, according to investigators.
Hernandez's arrest warrant said he then entered the home, located the handyman and shot him before leaving. The man, believed to be in his 40s, was airlifted to a hospital and remains in critical condition. The owners of the home were not injured.
Hernandez is from the city of Gibsonton, which is about 250 miles northwest of Doral and around 180 miles southwest of Lake City—near where he was found. Police aren't sure how Hernandez entered the gated community or what his relationship was with either victim.
Newsweek reached out to the Miami-Dade Police Department for comment.