Police in Florida used sniper rifles to provide cover for rescue divers searching for survivors of a van that crashed into a pond containing alligators.
The tense scene unfolded Friday in West Miami-Dade as rescue efforts were made more dangerous by the presence of the carnivorous reptiles long associated with the state. Local media captured the gutsy rescue operation that authorities have yet to release key details.
The incident began shortly before noon when a driver of a blue Toyota minivan lost control while trying to exit a turnpike and crashed into a retention pond swimming with alligators, reported WSVN, citing the Florida Highway Patrol.
Authorities, including the Florida Highway Patrol and Miami-Dade police, were summoned to the scene, per WPLG.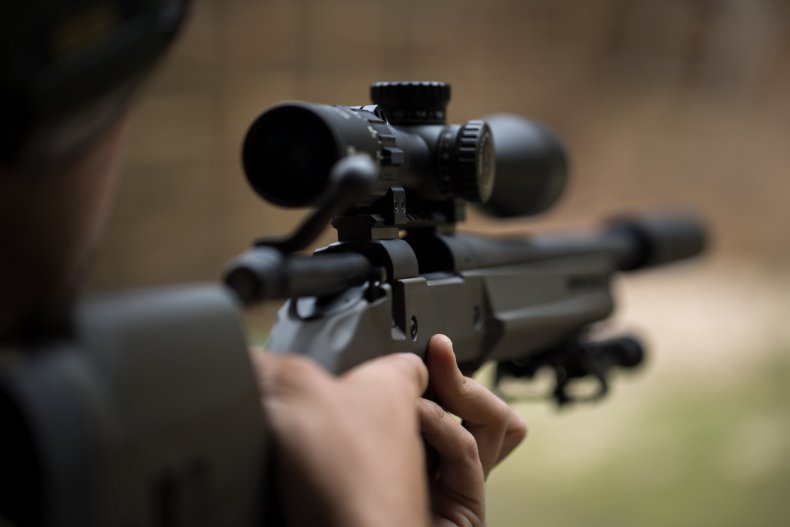 Rescue divers began the search for survivors in murky water with police snipers positioned around the pond with rifles to protect the first responders from alligators, per WSVN. Florida Fish and Wildlife Conservation Commission officials were also summoned to the scene.
"The vehicle lost control, overturned, driving off of the roadway into the pond," said Florida Highway Patrol Lieutenant Alex Camacho, per WSVN. "Dive teams from fire rescue and Miami-Dade Police did their search and rescue, and were able to rescue an adult female and adult male inside of the vehicle at the time."
Camacho wrote to Newsweek Tuesday that two state Fish and Wildlife Conservation Commission officers monitored the alligators' movements while divers carried out the rescue. Neither officer fired a shot, he said.
First responders administered CPR to the woman after pulling her from the water and paramedics transported both unnamed victims to a local hospital where they were in critical condition, according to WSVN.
Camacho saidthe adult male travelling in the vehicle died later that night in the hospital, and the adult female remains in critical condition.
Authorities are continuing their investigation of the incident, per WPLG.
Encounters with alligators are nothing new in Florida and other southern states. A Florida couple last month said an 8-foot alligator broke into their garage and got into a box of Diet Coke. Another family in the Sunshine State reported that a 550-pound alligator broke into their property to take a swim in their pool.
In Texas, a woman said that an alligator struck her with its tail while she was on her porch.
A University of Florida report found that unprovoked alligator attacks are uncommon. About 4 percent of alligator attacks on humans in the U.S. are fatal, a majority of which have occurred in Florida, according to the report.
Updated 05/31/2022, 6:38 p.m. ET: This story has been updated with comments from Florida Highway Patrol Lieutenant Alex Camacho.