A man was bitten by a shark Sunday morning while surfing near New Smyrna Beach in Volusia County, Florida, according to local media reports.
The man was taken to a hospital for treatment of his non-life-threatening injuries and was expected to survive, the Orlando-based television news station WOFL reported.
The incident is among several shark attacks and bites that have been reported around the U.S. in recent weeks.
Last week, a young girl suffered injuries that authorities described as "serious" when she was attacked by a shark in Florida, and another attack that occurred in late June across the country left a California surfer with injuries that officials described as "significant."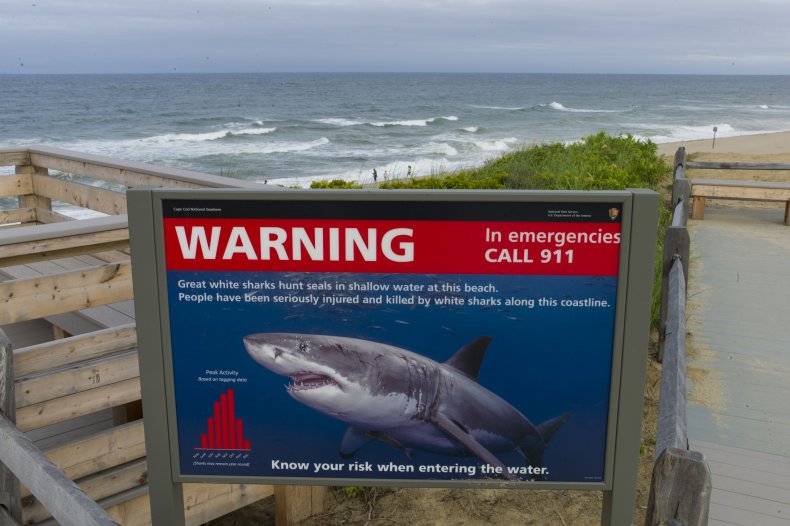 The Sunday incident involving the Florida surfer occurred shortly before noon, according to the Orlando-based station WFTV. The surfer was not identified by name, but county officials told local reporters he was 28 and from Daytona Beach.
The man was reportedly surfing near the New Smyrna Beach Jetty at the time he was bitten. The man fell off his board, authorities told local reporters, and was then bitten on his left foot by what they said they believed was a shark.
Authorities did not specify what kind of shark was believed to have bitten the man.
The man's friend then took the injured surfer to a hospital for treatment, according to WOFL. Authorities told local outlets the man's injuries were non-life-threatening, and that he was expected to survive the bite.
Newsweek reached out to Volusia County officials for comment.
Shark Bites 2021-2022
The number of shark bites reported around the world increased in 2021, researchers with the Florida Museum of Natural History found for their annual International Shark Attack File.
The 2021 report found that the U.S. led all other countries in its total number of unprovoked shark bites with 47, and Florida topped all other states in the U.S. for unprovoked bites with 28.
"For decades, Florida has topped global charts in the number of shark bites," the report said, noting the trend continued in 2021.
Researchers further broke down the number of shark bites reported in Florida to identify the areas in which the bites were most commonly reported and confirmed. Of the 28 unprovoked shark bites reported in Florida last year, researchers said 17 occurred in Volusia County, the same county in which the surfer was said to have been bitten by a shark earlier this week.
Despite the data gathered for the report, researchers noted that Volusia County "experiences considerable variation in the number of bites from one year to the next."