Florida Governor Ron DeSantis leads the GOP field and is a better option than former President Donald Trump to face off against President Joe Biden in a hypothetical 2024 general election matchup, according to a newly released poll from the University of New Hampshire (UNH) Survey Center.
In the poll, 318 likely Republican primary voters in the state showed that DeSantis and Trump are in a statistical dead heat for the 2024 nomination. However, the poll found that DeSantis does better head-to-head against Biden than Trump does.
Biden beat Trump by 8 percentage points in 2020, with the poll showing Biden with a nearly identical lead in the case of a 2024 rematch. But the poll showed DeSantis edging Biden by a 47 to 46 percent margin, with 97 percent of Trump voters supporting DeSantis in that hypothetical election.
DeSantis' popularity among Republicans, according to previous UNH polls conducted in October and July, has soared. Since October, DeSantis has seen his support more than double. It is "a further sign of Trump's weakening support among New Hampshire Republicans," the survey stated, although Trump recently insisted that he is not concerned about the prospect of facing DeSantis in the 2024 primaries.
DeSantis received 39 percent of Republican support in the poll, compared to 37 percent for Trump and 9 percent for Pence. In the same survey last October, Trump received 43 percent of respondents' support while DeSantis came in a distant second at 18 percent.
Andrew Smith, director of the UNH Survey Center, told Newsweek that the poll is not all that surprising considering primary polls tend to follow a particular pattern. Having been the party's most well-known figure for a number of years and the GOP's most recent general election candidate, it's understandable that Trump could see his support drop in favor of a newer candidate.
DeSantis' rise can also be attributed to his governorship and media attention. While polling earlier this year showed Trump with a massive lead over DeSantis and all other hypothetical Republican challengers, the outspoken Florida governor has made significant strides in becoming a household name.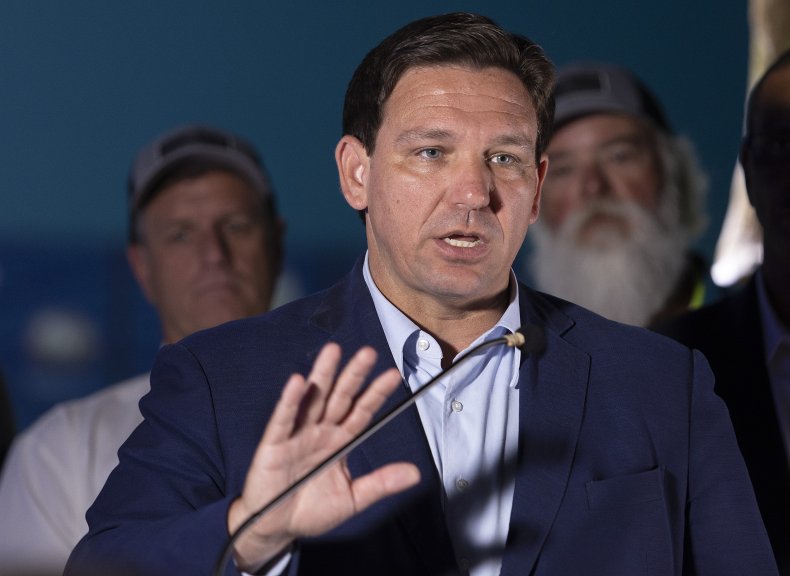 In February, one betting firm said DeSantis' presidential odds went from 66-to-1 to 9-to-1, still behind Trump and Biden but a massive change since last year. When asked about DeSantis and whether he would run, Trump told The New Yorker it is DeSantis' choice while adding that he was still confident he would reclaim the Republican nomination.
The caveat in polling at this juncture is that primaries lack the attention span of general elections. Trump also hasn't publicly announced whether he will run again for president.
"The long-term trend is that the candidate who lost in their party's prior primary election is usually the frontrunner for the next one," Smith said. "That's driven to name recognition."
Former Vice President Mike Pence, who has been arguably the biggest focus of the investigation into the Capitol riots aside from Trump himself, has seen his own numbers increase from 4 to 9 percent. However, this isn't "a huge amount" and is on the border of little significance, Smith said.
Smith also said it's a "myth" that the state has a vast amount of independent voters. He defined the state's Republicans as "Rockefeller Republicans" who tend to be more socially moderate and fiscally conservative. New Hampshire Democrats are socially liberal but lean more fiscally conservative due to what Smith said is the state's lack of an income tax, combined with low governmental and spending budgets.
"That seems to be something that both parties have run on," he said.
Newsweek reached out to DeSantis for comment.