A man charged with attacking a pregnant nurse at a Central Florida hospital, which later led to her losing her unborn child, has an extensive record that includes three separate incidents of domestic battery and other charges dating back nearly 20 years, according to the Seminole County Court.
Marie Marc, RN, was attacked October 30 at South Seminole Hospital in Longwood, Florida. She reported to Longwood police that she was dispensing medication in the hospital's behavioral health unit to a female patient who was screaming.
A male patient who was in a different room of the behavioral health unit entered the room where Marc was, shoved her against a wall, and attempted to kick her, she told police. Several staff members and security officers came to her aid and restrained the attacker, according to Longwood police. Marc told police the attacker was admitted to the hospital as a patient under the Baker Act, a Florida law that allows people with mental illness to be examined or treated by medical staff for up to 72 hours.
"The victim, who was 32 weeks pregnant at the time of the attack, went to Winnie Palmer Hospital concerned about the health of her unborn child," according to a Longwood Police Department press release. The victim was notified by medical staff that the unborn baby was dead, police reported.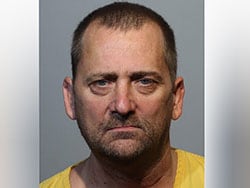 Joseph Wuerz
Joseph L. Wuerz, 53, was in custody at press time in the John E. Polk Correctional Facility in Sanford, Florida, on $90,000 bond in connection with the incident, according to custody records. He was released from the hospital November 2 and was charged with a homicide and aggravated battery. A January 11 court date is scheduled, court records show.
The specific charges, according to police, are manslaughter for injuring a mother and killing an unborn child; aggravated battery of a pregnant woman; and aggravated battery of a medical worker.
"We are aware of an incident that occurred at Orlando Health South Seminole Hospital," said spokeswoman Alayna Curry, manager of media relations and public affairs at Orlando Health. "At this time, this is a law enforcement investigation, and we are fully cooperating."
An online search by Medscape Medical News found nearly a dozen cases involving Wuerz in Seminole County, Florida, including three for domestic abuse, several motor vehicle violations, and a suspended license. There is also a pending, unspecified criminal case in Orange County that was filed earlier this year.
For more news, follow Medscape on Facebook, Twitter, Instagram, and YouTube.