Two Oregon counties requested refrigerated trucks for holding bodies of deceased coronavirus patients this week, joining a growing list of local governments that have needed the extra resources as COVID-19 death tolls climb.
Oregon's office of emergency management said Saturday that Tillamook County, located on the state's northwest coast, and Josephine County, in the southwest, both requested trucks, the Associated Press reported.
In Tillamook County, officials said the spread of COVID-19 has reached a dire phase and the county's only funeral home "is now consistently at or exceeding their capacity" of nine bodies.
"The increased number of COVID deaths in Tillamook County has put a strain on our ability to store the bodies of the deceased. Waud's Funeral Home is licensed to hold nine; since late last week, Waud's has been at capacity. Due to increased COVID mortality and the anticipation of additional deaths, we have ordered a refrigerated morgue truck from the state," the Tillamook County Board of Commissioners said in a statement Tuesday.
In the past two weeks, the county reported more new positive cases than in the first 10 months of the pandemic as the Delta variant spreads among unvaccinated community members, the board said. In the past week, the county more than doubled the number of COVID deaths from five to eleven.
"The spread of COVID in Tillamook County has reached a critical phase. From August 18 to August 23, 2021, we had six new COVID deaths. That is six tragic deaths in six days. We grieve for our friends and neighbors and their families. We are so very sorry for your loss," the board added.
Meanwhile, in Josephine County, Emergency Manager Emily Ring asked the state on Tuesday for a refrigerated trailer that could hold "20-48 cadavers." Ring said the county hospital is exceeding its daily body storage capacity and that the five funeral homes and three crematoriums are "at the edge of crisis capacity daily," according to the AP.
Hospital workers in Grants Pass, the county seat, told the news outlet that Josephine County is "in a full-blown health care crisis." Josephine County's vaccination rate is only 53 percent, according to Oregon Health Authority data, and a vast majority of COVID-19 patients in hospitals and intensive care units are unvaccinated.
Oregon has seen a 990 percent increase in coronavirus hospitalizations since July, the New York Times reported. Earlier this week, the state joined Florida, Arkansas and Louisiana in having more people hospitalized with COVID than ever since the pandemic began.
Oregon Governor Kate Brown has since deployed some 1,500 National Guard troops to hospitals around the state. Starting Friday, Brown mandated that all people, regardless of vaccination status, will now have to wear a mask when gathering closely in public, indoors and outdoors.
Oregon Health Authority director Patrick Allen said this week that the situation is so "dire" that he is urging unvaccinated people to avoid engaging in any nonessential activities. "It's that simple. It's that urgent," he said, according to the Times.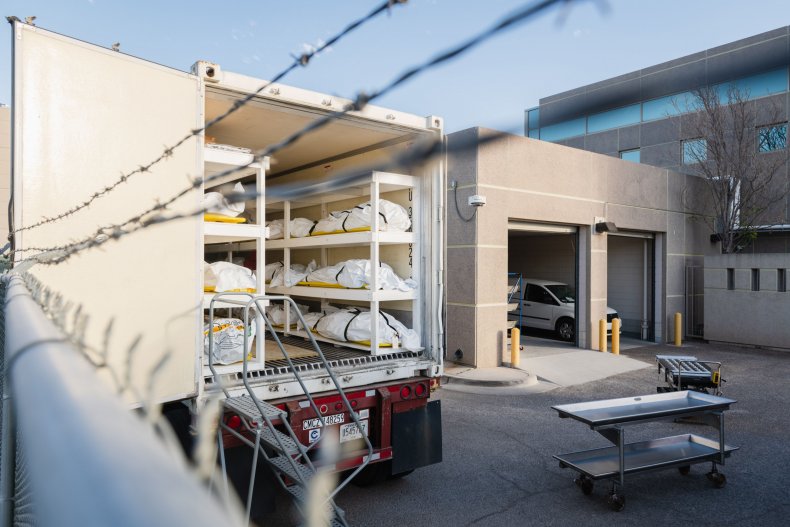 Oregon isn't the only state struggling with rising COVID deaths. Last week, Texas requested five mortuary trailers from the federal government in preparation for more deceased patients.
"We are anticipating a need within the state of Texas for these trailers as COVID cases and hospitalizations continue to increase," Department of State Health Services spokesperson Doug Loveday said in a statement, according to NBC News. The trucks will be stationed in San Antonio and sent around the state at the request of local officials.
In central Florida, hospitals have also been forced to order mobile morgues to help deal with the overflow of COVID-19 deaths. This week, Advent Health had to order 14 portable morgues to help make room for an additional 168 bodies.
"We have a robust emergency management program, which has allowed us to continue to care for our community during this surge with thorough planning and precautionary measures," Advent Health said in a statement to Newsweek on Friday. "With the spike of seriously ill patients in our hospitals, it's prudent that we prepare for an increase in deaths and are putting resources in place to provide additional capacity if needed."