The Walt Disney Company recently began relocating some 2,000 jobs from Southern California to Florida. In light of the state's controversial new legislation, Governor Gavin Newsom is urging the multimedia giant to reconsider.
In a tweet from Saturday, Newsom told Disney that "the door is open" for the jobs to return to California. It was accompanied by a link to a story about Disney's LGBTQ employees being unhappy with the company's response to Florida's "Don't Say Gay" bill.
"Disney, the door is open to bring those jobs back to California," Newsom wrote in his brief message. "The state that actually represents the values of your workers."
The relocation of around 2,000 employees was announced last summer by Josh D'Amaro, Chairman of Disney Parks, Experiences and Products. At the time, he cited Florida's lower cost of living for workers and its lack of an income tax as key factors in the decision.
Disney famously operates two major theme parks in the U.S.: Disney World near Orlando, Florida, and Disneyland in Anaheim, California. As such, it is a major driver for the economies of both states.
Formally known as the "Parental Rights in Education Act," the highly criticized House Bill 1557 recently passed in Florida bans teachers from discussing ideas regarding gender and sexual identity in kindergarten through the third grade. It would also prohibit the teaching of any such material deemed "inappropriate" for grades four and up.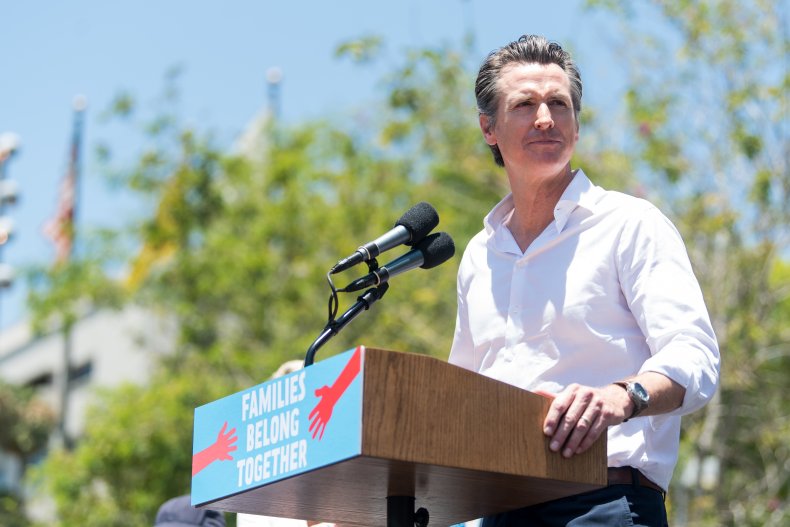 Troublesomely for many Florida educators, the bill does not define what constitutes "inappropriate" in the latter clause, leading to concern that it will be too broadly enforced. The bill also empowers parents to sue schools if they feel their child has been taught inappropriate things.
After it was discovered that the company had been donating to Florida Republicans who supported the bill, CEO Bob Chapek played down concerns and claimed to have been assured by Florida Governor Ron DeSantis that the bill would not be weaponized against LGBTQ students. After this response was criticized by employees and the public, Disney said that it would be halting all political donations in Florida for the foreseeable future.
Newsweek reached out to Disney for a comment.
Newsom's statement comes after DeSantis made a similar values-driven offer to police officers and other first responders last fall. During a Fox News appearance in October, the governor said that his administration was working on recruiting out-of-state workers that did not wish to comply with COVID-19 vaccination requirements.
"We're actually actively working to recruit out-of-state law enforcement, because we do have needs," DeSantis said. "So in our next legislative session, I'm going to hopefully sign legislation that gives a [$5,000] bonus to any out-of-state law enforcement that relocates in Florida."