Brian Laundrie's sister clarified details this week while speaking with reporters about her brother's activity in the days before Gabby Petito was reported missing on September 11.
Cassie Laundrie said during an interview on Good Morning America which aired Tuesday that September 6 was the last day she saw or spoke with her brother, whom authorities named a person of interest in Petito's disappearance. Petito's remains were found in Wyoming on September 19 and her death has ruled a homicide shortly thereafter. Brian Laundrie's parents said they last saw him on September 14, and authorities have been searching for him ever since.
Before the Good Morning America interview aired, Cassie Laundrie spoke with protesters outside her home in a video shared with News Nation Now and addressed what she said were misunderstandings that have circulated about the timeline of her brother's activity in the days before Petito was reported missing. Cassie Laundrie said she had seen her brother on September 1 when he arrived back in Florida, as well as during a camping trip her family took a few days later.
Cassie Laundrie also said during her conversation with protesters that her brother flew from Utah to Florida for a few days in August after police in Moab encountered the couple following reports of disorderly conduct.
Brian Laundrie's attorney, Steven Bertolino, confirmed with Newsweek that his client flew to Tampa, Florida from Salt Lake City on August 17 and returned on August 23. Bertolino also confirmed that, to his knowledge, Cassie Laundrie has not seen or spoken with her brother since September 6.
Below is the current known timeline of Brian Laundrie's movements, starting with his and Gabby's encounter with Moab police in mid-August.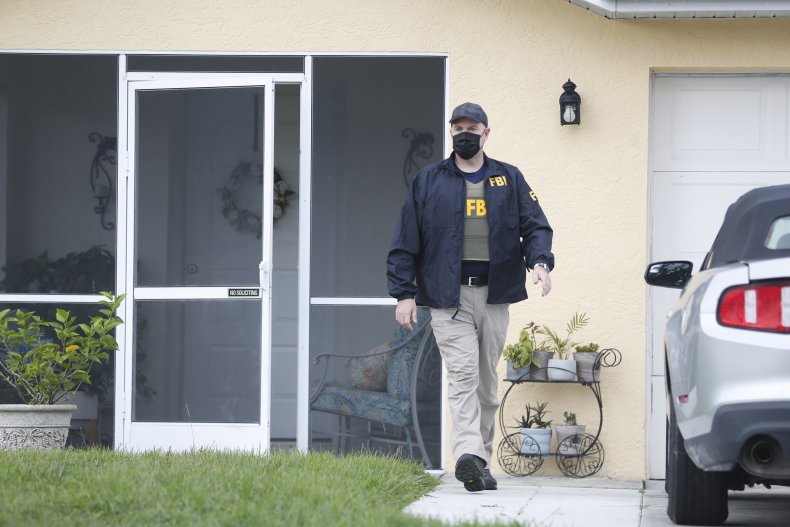 August 12: Moab police encounter Brian Laundrie and Gabby Petito after receiving reports of disorderly conduct. Video of the interaction is circulated widely in the wake of Petito's disappearance and stoked debates about the couple's relationship. No charges were filed in connection with the incident.
August 17: Cassie Laundrie said her brother briefly flew home during his cross-country trek with Petito. Bertolino told Insider Brian Laundrie made the trip to Tampa from Salt Lake City "to obtain some items" and to close a storage unit. The couple was at the time considering extending their trip, Bertolino told Insider.
August 23: Brian Laundrie returns to Salt Lake City following his brief trip to Florida, Bertolino confirmed with Newsweek. "To my knowledge, Brian and Gabby paid for the flights as they were sharing expenses," Bertolino told Insider.
August 30: Between August 30 and September 1, authorities allege Brian Laundrie used a debit card and the personal identification numbers of two bank accounts he was not authorized to access. The arrest warrant, which was issued on September 23, allows any law enforcement official who spots Brian Laundrie to arrest him.
September 1: Police said Brian Laundrie returns to his family's house in Florida on September 1 with the van he and Petito shared, but without Petito. Cassie Laundrie said in the video obtained by News Nation Now that she saw her brother and her parents when they stopped by her home on September 1 but said they were traveling in the family's Mustang, not in the van her brother traveled in with Petito.
September 6: The Laundrie family's attorney saysBrian Laundrie and his parents stayed at the Fort De Soto Campground from September 6 through September 8. Cassie Laundrie said in the video obtained by News Nation Now that she too stopped by the campsite on September 6 between 2 and 8 p.m. "There was nothing peculiar about it," Cassie Laundrie said in the interview with Good Morning America. She expressed frustration that she "didn't pick up on anything" at the time and reiterated this week that she did not learn of Petito's disappearance until September 11.
September 11: Petito's family reports her missing to authorities. One of the Laundries' neighbors has said she last spotted Brian Laundrie near the family home the weekend before Petito was reported missing.
September 17: Brian Laundrie's parents say that they had not seen their son since September 14. They told authorities at the time they believed he was heading to the Carlton Reserve nearby to hike or camp.
September 19: Authorities discover remains near a campsite in the Bridger-Teton National Forest in Wyoming and say the remains appeared to match the description they had for Petito. Three days later, authorities confirmed the remains were Petito's, and a medical examiner ruled her death a homicide.
October 5: In conversations this week with protesters outside her home and in an interview with Good Morning America, Cassie Laundrie said she does not know where her brother is and would "turn him in" if she did. "I hope my brother is alive," she told Good Morning America. "Because I want answers just as much as everybody else."