Republican allies of former President Donald Trump are denouncing news of the federal charges against him as "election interference," claiming the indictment is an attempt to divert attention from accusations against President Joe Biden.
Several sources reported Thursday that Trump is facing a list of unknown charges stemming from the Department of Justice (DOJ) investigation into his handling of classified documents found in his Florida home in August. One source familiar with the matter told The New York Times that the indictment includes seven counts.
Trump also posted about the indictment on his Truth Social account, saying he is expected to be arraigned in Miami, Florida, on Tuesday.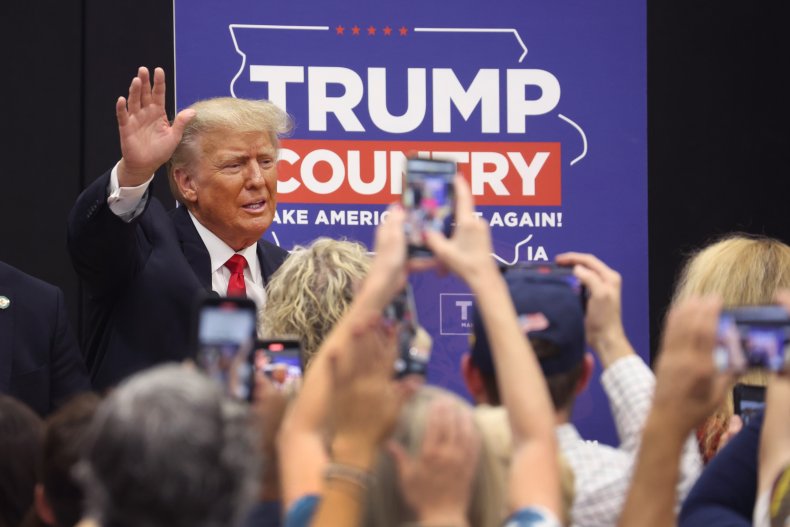 Trump has maintained his innocence, often calling the DOJ probe a "hoax" and a form of "election interference." Several of the former president's political allies also condemned the news of his indictment over Twitter, including Ohio Representative Jim Jordan, who tweeted that it was a "Sad day for America."
"God Bless President Trump," Jordan added.
"Democrats must literally shake with sweats when they see amazing packed out Trump rallies and overwhelming winning poll numbers week after week," said Georgia Representative Marjorie Taylor Greene, who also shared screenshots of Trump's reaction on Truth Social. "They must awake in the night with panic at the thoughts of us winning in 2024."
Greene also wrote in length about the accusations against Biden's family, whom House Republicans have accused of an alleged bribery scheme based off an unclassified FBI forum shown to lawmakers on Thursday. Florida Representative Matt Gaetz also noted the form, tweeting, "Imagine being naive enough to believe that the Biden Bribe evidence and Trump indictment happening the same day was a coincidence."
Former Arizona GOP candidate Kari Lake called on her followers to "Pray for America" in light of the news of Trump's indictment.
"It's official—Biden is trying to put President Trump behind bars," Lake wrote on Twitter. "This is the most egregious case of Election Interference in history. The United States has toppled other countries for jailing political opposition. I cannot believe this is now happening here."
Lake has fought tooth and nail to prove instances of election fraud in her loss to Arizona Governor Katie Hobbs in the November election, and has often supported Trump's unfounded accusations that the 2020 presidential election was stolen from him.
Conservative political pundit Charlie Kirk demanded that Trump's opponents in the 2024 GOP primary take action and "show solidarity" with the former president, or risk being made "part of the opposition."
"Every 'Republican' running for President should suspend their campaign and go to Miami as a show of support," Kirk tweeted Thursday. "If you don't, you are part of the problem. Either we have an opposition party or we don't. GO to Miami Tuesday, and show solidarity or we will mark you as part of the opposition."
Trump holds a healthy lead in a crowded pool of Republican candidates ahead of the 2024 presidential election, but his campaign has been marked by repeated legal troubles. In addition to his two indictments, the former president faces a DOJ probe into his actions surrounding the January 6 attack on the U.S. Capitol, and Fulton County District Attorney Fani Willis is nearing an end to her investigation of Trump's attempt to overturn the 2020 election results in Georgia.
Newsweek has reached out to Florida Governor Ron DeSantis and former Vice President Mike Pence, both fellow GOP presidential candidates, via email for comment.
Update 06/08/2023, 9:23 p.m. ET: This story has been updated with additional information and background.