Nine people were injured after an altercation ended in gunfire in a popular Florida beach town packed with individuals celebrating the Memorial Day holiday, Hollywood police confirmed.
At least one person of interest has been detained, and police are currently looking for a second individual, Hollywood Police Department spokesperson Deanna Bettineschi told reporters. She said the incident happened following a "dispute between two groups."
The shooting, which injured at least four minors with the youngest being a 1-year-old toddler, occurred near the Hollywood Broadwalk near the Margaritaville Hollywood Beach Resort, Bettineschi said during the press conference. The area is filled with beachfront shops, restaurants and hotels, and is a hot spot during holidays and the summer season.
The victims were transported to Memorial Regional Hospital and Joe DiMaggio Children's Hospital, police said. Officials did not immediately share information on victims' ages or identities. Bettineschi said as of Monday afternoon that six of the victims are still in the hospital in stable condition and three people have been released.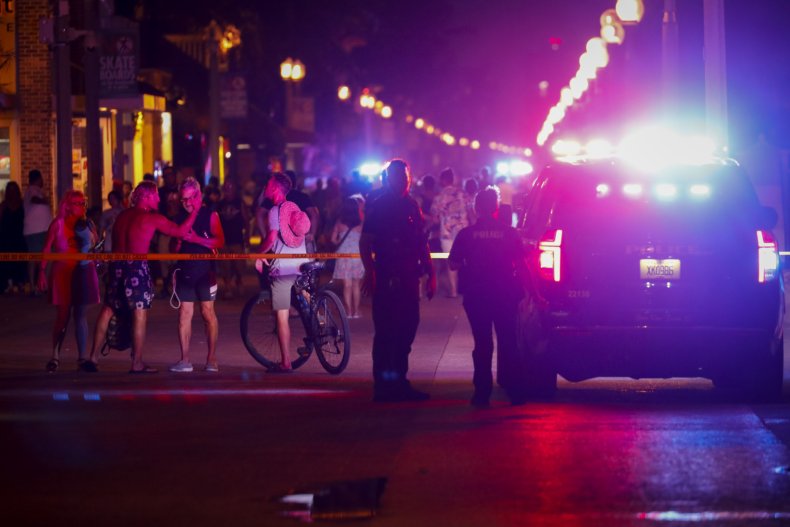 Bettineschi said in an emailed statement to Newsweek that the Hollywood police are seeking help from the community as they search for additional potential suspects. Bettineschi said Hollywood police detained several individuals after the shooting, including two who were arrested for firearms charges. However, said she those detained were "not identified as the shooters."
As of Monday morning, police recovered five handguns at the scene, with two of those identified as being stolen. One handgun was reported stolen from Texas and the other from Miami Dade, Bettineschi said in an updated statement to Newsweek Monday afternoon.
"As the investigation continued, surveillance video was obtained, showing two people we believe may be involved," she said. "We are asking the community, if you know who the two pictured may be, please contact police."
Bettineschi provided images captured from the live footage. Though they are blurry, she hopes someone might recognize the individuals and might be able to provide information. Anyone with information relating to the shooting can call 954-967-4567 or e-mail hollywoodpdtips@hollywoodfl.org.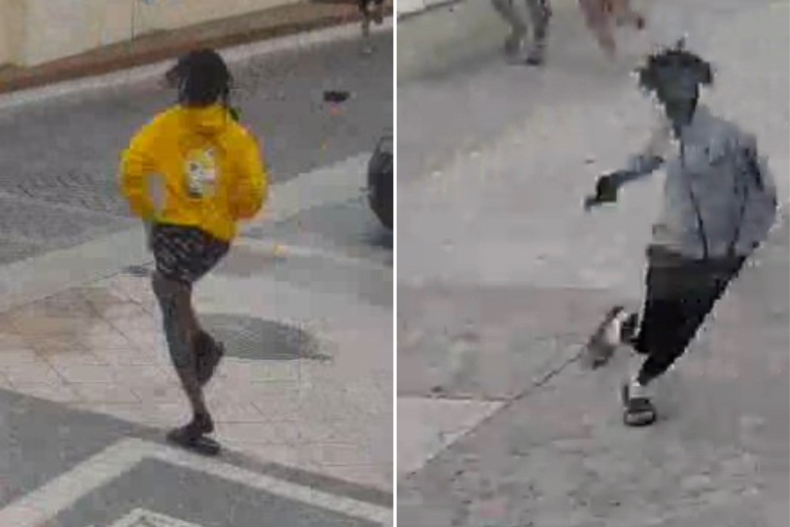 Jarring footage shared on Twitter by gun reform advocate Shannon Watts, the founder of Moms Demand Action, shows dozens of people fleeing the scene and running for cover. The video, from the city of Hollywood's live feed of Hollywood Beach, captured the chaos after the shooting around 6:40 p.m. local time.
Other clips circulating on social media show police responding and emergency medical crews providing aid to several injured people.
Hollywood police said they received a call about a shooting just before 7 p.m. local time. When officers arrived at the scene, they found nine people wounded, Bettineschi said.
Shortly after 8 p.m., Hollywood police issued an alert urging people to avoid nearby areas.
"Please avoid the area of Johnson to Garfield Streets, as well as the Broadwalk, due to an ongoing shooting investigation. Heavy police presence in the area," the department tweeted. "If you are looking to reunite with a family member, we have set up a reunification area at Johnson St and N Ocean bus loop."
Around 10 p.m., the Hollywood police shared on the department's Facebook page that the Broadwalk between Johnson and Garfield remains closed.
Josh Levy, the mayor of the Florida beach town located between Fort Lauderdale and Miami, said in an emailed statement to Newsweek that he is "deeply saddened and angered" by the shooting that resulted in injuries to innocent bystanders.
"It is completely unacceptable that innocent people spending time with family on a holiday weekend have been affected by a shooting altercation between two groups who came into our city with guns and with no regard for the safety of the law abiding public around them," Levy said.
In the email to Newsweek, Levy said he wanted to emphasize that "the safety and well-being" of residents and visitors is Hollywood officials' "top priority."
"Hollywood Police has dozens of officers assigned to the beach on busy holiday weekends and that allowed for an immediate response that resulted in multiple persons detained for this incident," he said.
The mayor thanked the good Samaritans and the paramedics of Hollywood Fire Rescue and Beach Safety who rendered quick emergency aid to those injured. He called on the residents of Hollywood to remember that "our community's strength lies in its resilience and compassion."
"We must support one another, offer comfort to those affected, and work diligently to prevent similar incidents from occurring in the future," he said.
Levy also expressed his gratitude for those who helped the victims in a Twitter post on Monday night.
Update 5/30/2023, 4:30 p.m. ET: This article was updated with comments from Mayor Levy and Hollywood police as well as photos from the scene.