Florida Governor Ron DeSantis' crusade to prevent COVID-19 restrictions and consolidate his power in the state has drawn ire from local officials—including the GOP mayor of Hialeah, who called the governor a "dictator" for prohibiting mask mandates.
Hialeah Mayor Carlos Hernandez, who serves a solidly Republican city in Miami-Dade County, has repeatedly criticized the governor for not allowing local leaders to make decisions on how to best protect their residents amid the pandemic.
"He's a dictator," Hernandez said. "It's a shame because we're paying the price."
Christina Pushaw, DeSantis' press secretary, disputed the criticism and defended the governor's authority to use executive power to limit local officials who "overstep and infringe on individual rights."
"Ridiculous for anyone to call Governor DeSantis a dictator," Pushaw said in a statement, according to The Washington Post. "Since when do dictators prioritize individual rights over the unchecked expansion of government power?"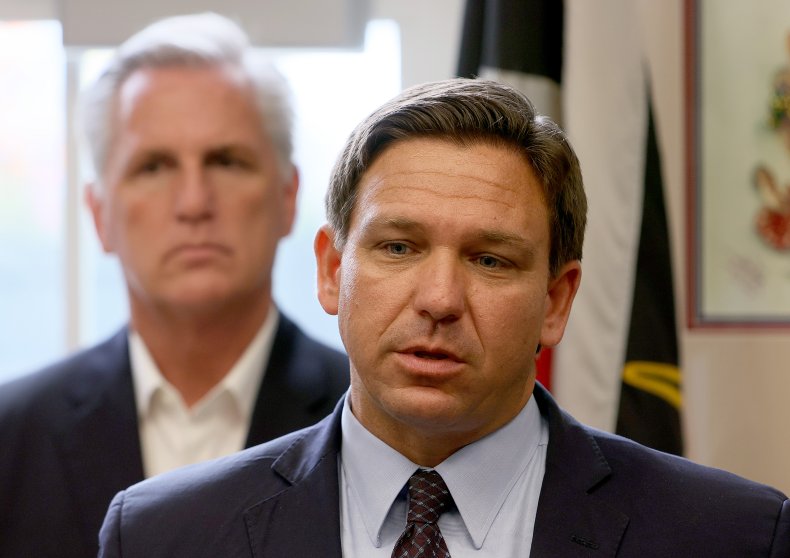 As COVID-19 cases surged across Florida this summer, DeSantis—whose name has been mentioned as a possible 2024 presidential candidate—blocked local officials from implementing coronavirus restrictions, including limits on businesses, further lockdowns and vaccine and mask mandates.
He also banned school districts from requiring children to wear masks, threatening to withhold the salaries of educators who choose to defy his order. The decision was at odds with the Centers for Disease Control and Prevention's (CDC) recommendation of "universal indoor masking for all teachers, staff, students, and visitors to K-12 schools, regardless of vaccination status."
Recently, Florida has led the U.S. in new coronavirus cases, with the highest rate of hospitalizations among children in the country. The Sunshine State reported 25,991 new cases of the virus on Saturday, another daily record. It saw nearly 150,000 new cases over the past week, a figure far greater than much-larger states including Texas (89,666) and California (54,325).
Rather than impose measures to limit spread of the virus, the governor has surrounded himself with controversial health experts who have pushed for a more targeted response to the outbreak, including Stanford Professor Dr. Jay Bhattacharya, co-author of the Great Barrington Declaration.
The anti-lockdown document, which advocates for protecting high-risk individuals and allowing others to develop immunity through natural infection, has been widely panned by mainstream health experts and supporters of mitigation measures, with some calling it a "mass infection plan."
DeSantis has frequently criticized government-mandated pandemic protocols. In an interview on Fox News Thursday, he called such precautions "the most significant threat to freedom" in his lifetime.