A giant 550-pound alligator tore through a screen to take dip in a Florida family's swimming pool, authorities reported.
A family in Deep Creek was woken up by some "loud noises" in the night, the Charlotte County Sheriff's Office said in a statement shared on Facebook Tuesday.
When the family came out to take a look, they found the huge reptile resting in their private swimming pool, according to authorities.
Photographs shared by the sheriff's office show the intruder lurking in the water before officials were called to remove it.
"Always check your pool before diving in!" the sheriff's office said in a statement. "Coming in at 10'11" and weighing over 550lbs., he tore through the screen to get to the nice, cool water."
Photographs also showed wildlife officials subduing the gator and attempting to remove it from the family's backyard.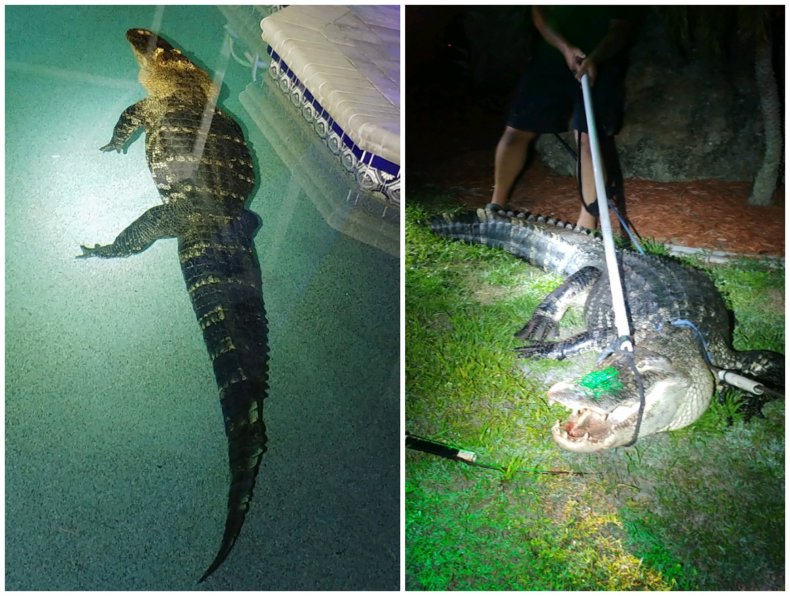 The predator was eventually removed from the pool and released back into its native habitat, WINK reported.
There are reportedly about 1.3 million alligators in Florida. Male alligators reach an average length of 10 feet, while females usually only reach 8.5 feet.
Most residents know how to stay clear of the predators. However, the creatures sometimes end up wandering into properties.
It is not the first time an alligator has been found lurking in a private swimming pool in the Sunshine State.
In January, a large alligator was found in a family's swimming pool in Venice. The Florida Fish and Wildlife Conservation Commission (FWC) were called in to remove the alligator.
"The house is for sale and the homeowners were not at home," Jon Hodge, who runs Hodge Pool Service in Venice and recorded footage of the incident, told Newsweek at the time. "The alligator tore through the pool screen and made itself at home."
Meanwhile, in April, another alligator was found prowling on a family's front porch in Flagler County. Footage taken by the local sheriff's office showed the gator lurking right outside their front door.
Alligators' preferred habitat is water, meaning they are occasionally attracted to outdoor swimming pools.
Temperatures are beginning to warm up in the state, meaning the cold-blooded reptiles will be more active.
At this time of year, per the FWC, Florida alligators also begin courting one another and mating. This can make them more prone to wandering out of their natural habitat in search of a mate. Thus, it's more common to find them in strange places.
Due to the state's high abundance of alligators, the FWC keeps an eye out for conflicts with humans to make sure they do not become a threat. Alligators are only considered a nuisance when they display aggressive behavior or continuously cause conflicts.