The exact number of COVID deaths in counties in Florida remains unconfirmed as the state reportedly will not reveal the data as cases surge amid the highly transmissible Delta variant.
Florida releases data related to COVID deaths on a state level, but hasn't been disclosing the number of deaths on a county level for three months, The Palm Beach Post reported.
According to the outlet, people in Florida will find it difficult to know the exact number of COVID deaths in each of the state's 67 counties due to the shortcomings and inconsistencies in data published on federal websites.
The state's health department points to the Centers for Disease Control and Prevention (CDC) website for county deaths, but the CDC number doesn't represent an accurate state tally and its county-level-COVID-deaths map shows only blanks for each county.
The department used to report county death tolls on a daily basis before it began in June releasing weekly reports, which lack those local death counts, according to the Post.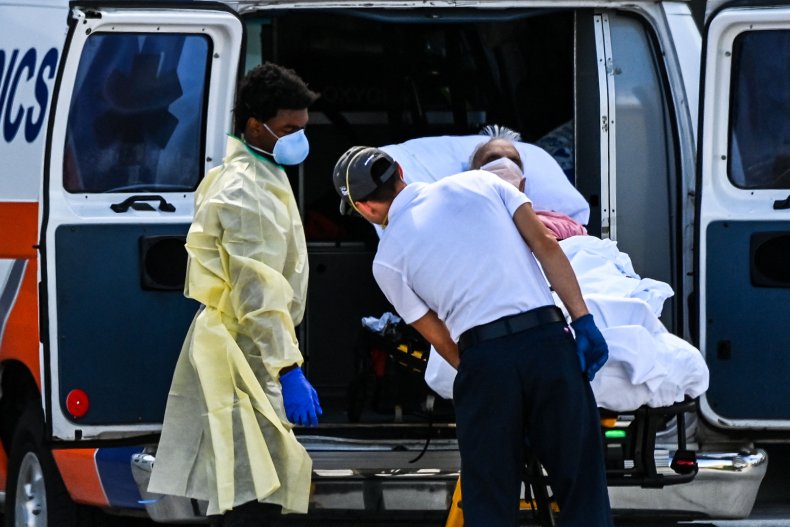 The department's spokesperson, Weesam Khoury, told the Post that the department is "not hiding anything."
"When we give it to the CDC, it's there," Khoury said, referring to the CDC's provisional data of COVID death counts in U.S. counties. However, deaths in 33 Florida counties are reportedly less than the state health department's last county report in June, according to the news outlet.
The CDC and the state's department of health have been reporting different numbers of COVID deaths statewide. For instance, in its weekly report, the state health department reported a total of 46,324 COVID deaths in Florida during the period between August 27 and September 1, while the CDC reported 42,731 COVID deaths through September 2.
Jean Malecki, a former Palm Beach County health department director, explained that the way Florida currently reports COVID death counts "hides the reality of what people are facing and that's just wrong."
"Anytime (the government) hides information, you question what's going on. And you don't trust. And when you lose the trust of the people you serve and the people's lives you're responsible for, that's wrong," Malecki told The Palm Beach Post.
The Delta variant remains dominant in the Sunshine State, but hundreds of cases of the new Mu variant have recently been recorded. The Mu variant is reportedly more transmissible and potentially more resistant to vaccines compared to other strains.
On September 6, there were 10,162 new cases in Florida, including 305 confirmed Mu variant cases, according to data from the Outbreak.info website.
Newsweek contacted the Florida Department of Health for comment but did not hear back in time for publication.