A Florida teacher's shirt has stirred controversy among some parents, as educators continue to grapple with the state's new Parental Rights in Education law, informally known as the "Don't Say Gay" bill.
On Tuesday, a teacher at Tocoi Creek High School (whose identity has not been disclosed to the public) wore a shirt sporting the phrase "Protect Trans Kids," prompting complaints from some district parents. A photo of the shirt was sent to principal Jay Willets along with a message "expressing concern," a spokeswoman for the St. Johns County school district told The St. Augustine Record.
Following the outcry, Willets "immediately" spoke with the teacher and demanded the removal of the shirt, which they complied with. No further punishments were leveled against the teacher for the incident, which occurred two days before the Transgender Day of Visibility.
Recently signed into law by Republican Governor Ron DeSantis, the much-discussed bill forbids the discussion of gender or sexual identity topics with students in the third grade or below and also forbids any such topics deemed "inappropriate" for all other grades. The latter clause has caused the most consternation amongst Florida educators, who worry that it was left too vague and could conceivably be used to police all discussion of LGBT issues. The bill also empowers parents to sue schools over lessons they feel are not appropriate.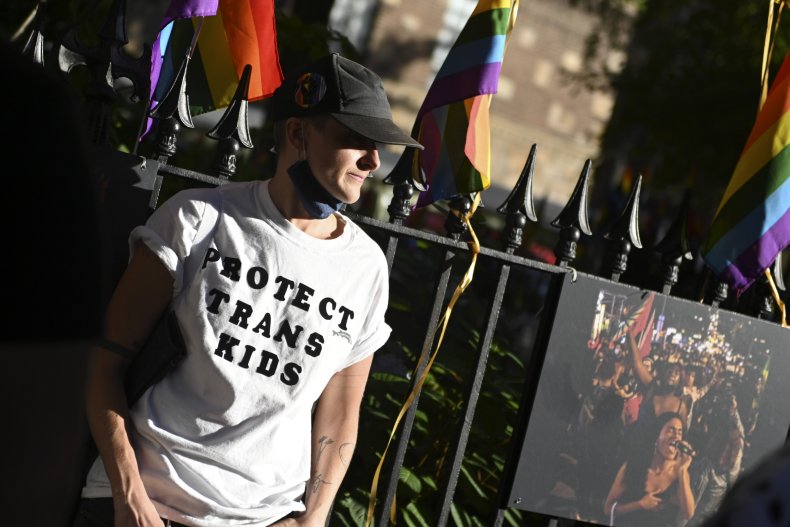 The district also provided The St. Augustine Record with its code of conduct for employees. Beyond the issues surrounding the effects of the "Don't Say Gay" bill, the district's rules forbid teachers from wearing anything that displays "a written message of any kind, except for names, logos and slogans related to a District school, the District, or school or District related organizations, events or activities."
The rules also prohibit employees from engaging in any activities deemed political in their professional capacities.
"Employees shall not wear apparel with a political logo (elephant, donkey, etc.)," the rules read, according to The St. Augustine Record. "However, employees shall have the right to participate in political activities in their individual capacity when they are not scheduled for duty and are not on District property or at a school-sponsored event or activity."
Newsweek reached out to the high school for a comment on this story but did not hear back before publishing.
Disney, after it was initially criticized for its soft stance on the matter, has become a major corporate opponent of the bill. The company, which has a major economic presence in the state, withdrew all political donations in the state and pledged to support pro-LGBT initiatives across the U.S.
"Florida's HB 1557, also known as the 'Don't Say Gay' bill, should never have passed and should never have been signed into law," a Disney spokesperson said on Monday. "We are dedicated to standing up for the rights and safety of LGBTQ+ members of the Disney family, as well as the LGBTQ+ community in Florida and across the country."