A parents group in Florida is denouncing the use of a personal finance textbook containing Bible verses in schools as an attempt to indoctrinate their kids with conservative Christianity.
Republican Florida Governor Ron DeSantis, also a 2024 presidential candidate, has in recent years repeatedly railed against what he says is indoctrination in education, vowing that he "will not let the far-left woke agenda take over our schools."
The Sunshine State has rejected school materials that it claims "indoctrinate students." The state has also banned the mention of sexual orientation and gender identity in classrooms, while limiting teachings on race and the country's history of institutional racism.
Eight Pasco County residents are now objecting to the promotion of rhetoric from the other end of the political spectrum, lashing out at the inclusion of Christian finance guru and conservative radio personality Dave Ramsey's Foundations in Personal Finance textbook in school curriculum, according to an article published Friday by The Tampa Bay Times.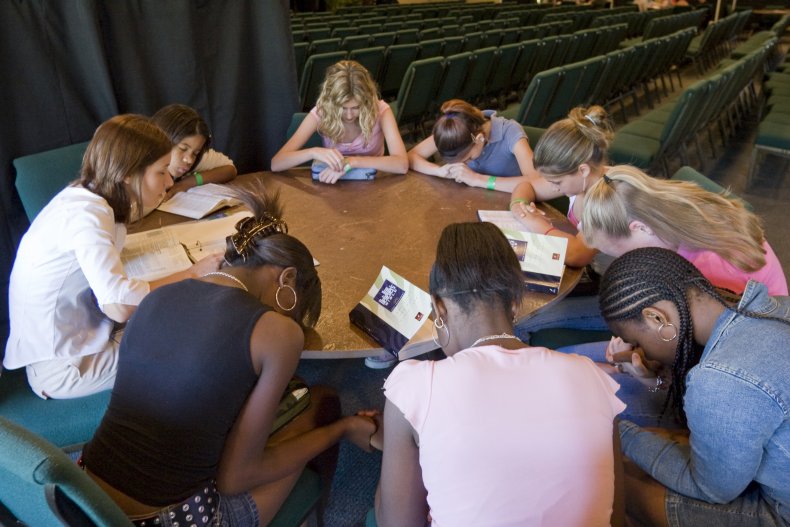 The Pasco County School Board will reportedly hear objections to the book during a hearing in the next month. Parents will be urging officials to reconsider the text over the inclusion of Bible verses, alongside issues that include the promotion of conservative fiscal values and the alleged "shaming" of poor children.
"I object to the teaching of this material and biblical quotes and rhetoric written by the author, who also is a well known right-wing media spokesperson," parent Mark Young reportedly wrote in a petition asking the school district to reconsider using the book.
"Bible verses do not belong in public schools," added parent Brian Kelley. "And Dave Ramsey isn't qualified to provide (instruction) in a secular classroom."
Newsweek reached out for comment to Ramsey's company, Ramsey Solutions, via email on Friday.
Ramsey's judgment on providing financial advice has been called into question for reasons other than religion and politics. He was sued for $150 million in June by a group of his radio show listeners who allege they were defrauded by a company that Ramsey advertised, which touted an opportunity to "exit" costly timeshare contracts.
Pasco County School Board member Colleen Beaudoin told The Tampa Bay Times that she "didn't have concerns" about Foundations in Personal Finance being used by the school district, rejecting the notion of the text containing inappropriate bias.
Lea Mitchell, director of Leading and Learning for the district, also reportedly rejected the complaints, pointing out that the book contains quotes from historic figures like Albert Einstein and Benjamin Franklin in addition to Bible passages.
At least one parent compared the inclusion of the textbook to more controversial video lessons produced by the right-wing content creation organization PragerU, which opposes what it calls "woke agendas infiltrating classrooms."
Florida recently approved the PragerU lessons for use in classrooms. However, Pasco County is discouraging schools from using the lessons.
Dennis Prager, a conservative talk radio host who founded PragerU, admitted during a conference in Philadelphia, Pennsylvania, this summer that the group did aim to "indoctrinate kids," while insisting that its variety of "indoctrination" was not "bad."