Parents of Florida schoolchildren will head to court on Monday to debate Governor Ron DeSantis' ban on mask mandates, after a judge allowed their lawsuit to move forward amid an escalating fight over school masking in the state.
Leon County Circuit Judge John C. Cooper on Thursday declined to dismiss a lawsuit seeking to block enforcement of DeSantis' executive order banning school mask mandates, paving the way for a three-day hearing on the case starting Monday, according to WKMG.
"I do believe they have a right to challenge the governor," Cooper said in his ruling. "I'm not deciding whether they are right or wrong. We'll have to see what the evidence shows."
Led by parents, the lawsuit filed on August 6 claims that the governor's order limits the ability of local officials to ensure "safe and secure public schools." A ruling may come as early as the end of this week, and it could affect all school children across the state.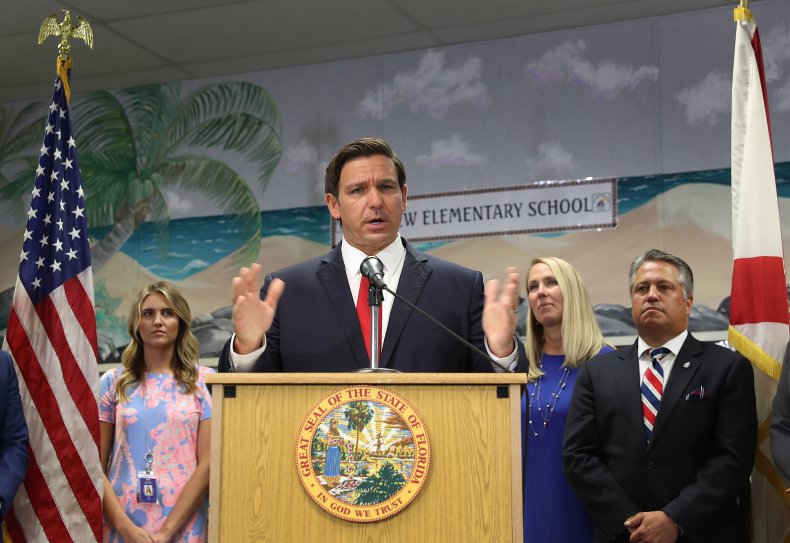 Lawyers for DeSantis and state officials, who were named as defendants in the suit, argued that parents did not have any legal standing to sue the governor over an issue between the state and dozens of Florida school boards.
In their failed motion to dismiss, attorneys for DeSantis also insisted that the executive order banning masks was intended to allow parents the freedom to choose whether their children should wear a mask.
A sixth school district in Florida on Friday defied DeSantis' ban to require masks for educators, parents, students and vendors. Sarasota County School Board member Shirley Brown, who voted in support of the mask mandate, told Newsweek that COVID-19 case numbers were too high not to impose a mandate.
By the end of the month, the school district's number of cases may exceed the total number from 2020, she said.
Florida has led the U.S. in new COVID-19 cases in recent weeks, with the highest rate of hospitalizations among children in the nation.
DeSantis advocates for the right of individuals and parents to choose, while supporters of mask mandates argue that they are necessary to protect citizens and limit the spread of the highly contagious Delta variant, which now accounts for about 95 percent of the country's cases.
The Biden administration entered the fray last week to support schools districts who have enforced mask mandates in defiance of DeSantis' ban.
After Florida's Board of Educators threatened to withhold funding for school districts that refused to reverse their mask requirements, U.S. Education Secretary Miguel Cardona vowed that the Biden administration would "assist any districts facing repercussions."
Newsweek reached out to DeSantis' office for comment.