A Florida man has been charged with attacking another man during a vacation stay at a Florida Hotel.
On Thursday, James Lenn Williams, of Port St. Lucie was arrested and charged with aggravated battery, battery by strangulation, and two additional counts of battery.
Williams was staying at Oceans Edge Resort & Marina on Stock Island with two friends, which comprised of one man and two women. Williams allegedly was pushing one of the women, who was unconscious, in a maintenance barrel toward their hotel room. While pushing her, Williams started throwing beer and insulting her.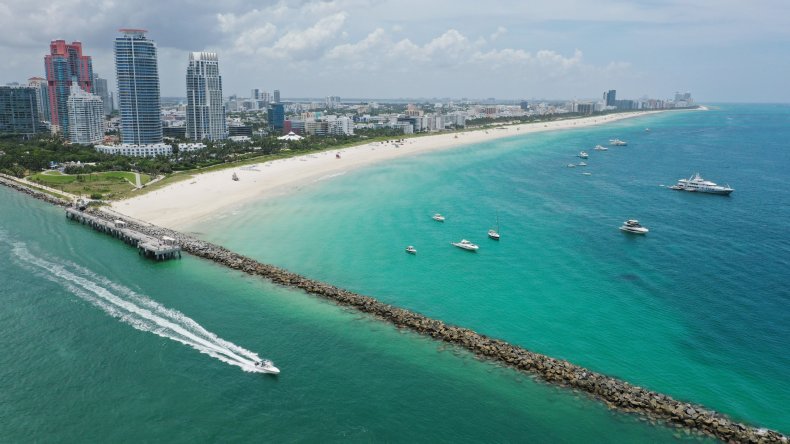 Williams' friend, a 28-year-old man, stepped in and tried to diffuse the situation. Williams then started fighting with the group of friends and pushed the other woman to the ground. He then bit off part of the male victim's ear, according to authorities.
The 28-year-old victim was taken to a local hospital to treat his injuries.
In July, a Florida man was hospitalized after jumping into a jaguar pen at Jacksonville Zoo and Gardens.
"This is an individual that wasn't using his head… He stuck his hand in through the mesh that separates the jaguars from the outside," deputy zoo director Dan Maloney told WJXT. Maloney also stated that it "would have been a very different story" if the animal was able to secure a stronger grip on the man.
The jaguar that was involved in the incident was unharmed and authorities stated that the man wasn't trying to harm the jaguar.
In May, Joseph Guenther died after his boat crashed into a line of mangroves. Florida Fish and Wildlife Conservation Commission (FWC) officials stated that the man was "driving erratically" and was ejected into the mangroves after the boat crashed.
"Appears [Guenther] is going to have a mangrove lodged into (his) head," FWC said in an email.
A radio call by the Monroe County Sheriff's Office indicated that Guenther needed life-saving efforts once authorities arrived on the scene.
"MCSO last transmission is advising that he is in full code," FWC stated. Full code means that a person's heart has stopped and all resuscitation methods will need to be administered to keep that person alive.
In April, a Florida ride operator was attacked after pushing a black woman after she was trying to help her children off a Ferris Wheel.
The incident took place at Opa Locka Hialeah Flea Market Carnival and was posted on Twitter by an onlooker.