A Republican-dominated committee in the Florida State House voted to advance a six-week abortion ban on Thursday, although the state's current 15-week ban is still being decided in state court.
All 13 GOP members of the Healthcare Regulation subcommittee voted in favor of the proposed House Bill 7, filed in Florida's House this month. The bill would prohibit physicians from knowingly performing an abortion if the fetus is more than 6 weeks old, unless in cases where the mother's life in danger, or the pregnancy is the result of rape or incest and is not further along than 15 weeks.
HB 7 also bans physicians from dispensing abortion-inducing drugs through platforms like tele-health. Instead, a physician "must be physically present in the same room" when the abortion is performed or when abortion-inducing drugs are dispensed.
Anyone who "willfully performs, or actively participates in, a termination of pregnancy" in defiance of the new guidelines would be committing a felony of the third degree, punishable by up to five years in prison under Florida state law.
Florida Governor Ron DeSantis previously signed a 15-week abortion ban—House Bill 5—into law in the spring. The bill, which also makes providing an abortion outside of the guidelines a third-degree felony, went into effect July 1 after the U.S. Supreme Court overturned federal abortion protections established in Roe v. Wade.
The current Florida ban has faced multiple challenges in court, including a case filed by several abortion providers in the state who argue that the bill violates Florida's constitutional protection for individuals' privacy. The Florida Supreme Court agreed in January to review the case, which was struck down by lower courts, but justices did not grant providers their request to immediately block HB 5 while the lawsuit proceeds.
The newly proposed six-week ban would only go into effect if the 15-week ban holds up in court.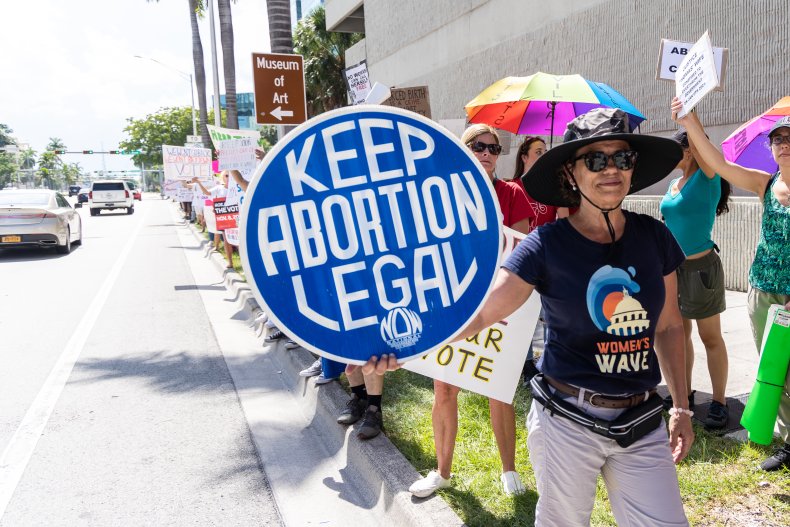 Republican state Representative Jenna Persons-Mulicka, who proposed the six-week abortion ban, said that the bill "recognizes the importance and value of the life of innocent, unborn human beings."
"The bill that's before you is not solely a reflection of my personal beliefs, but a result of listening in an attempt to build consensus around a policy that supports life," she added, according to the Associated Press.
On Thursday, Democratic House Representative Anna Eskamani proposed an amendment to HB 7 that would strike the six-week abortion ban in its entirety, which failed to be adopted. Fellow Democrat representatives Allison Tant and Kelly Skidmore also proposed amendments that would ease the requirements for the rape, incest and life endangerment exceptions to the bill, but both amendments were also struck down.
Eskamani addressed the Florida legislature after her amendment failed, sharing how she both worked for Planned Parenthood and was a patient there before being elected to the House.
"It's very important that we protect reproductive rights, and I'm incredibly concerned that the direction we are going in Florida is creating a scenario, as Representative Tant mentioned, where people do not even know they're pregnant at six weeks," she added.
When asked for comment, Planned Parenthood directed Newsweek to a statement released on Thursday by the Florida Alliance of Planned Parenthood Affiliates, which said that HB 7 would "devastate abortion access in Florida and across the southeast even more than it already has been."
"All abortion bans are extreme, no matter when in pregnancy they start, because they put politicians where they don't belong: in charge of other people's personal health care decisions," read the statement. "But people often don't even know they're pregnant at six weeks. Banning abortion so soon means patients will have already lost the option to have an abortion before even realizing they might need one."
A six-week limit on abortion has often been referred to as a "heartbeat bill." Fetal cardiac activity can often be detected between the sixth and seventh weeks of pregnancy, according to the American Pregnancy Association.
Ohio passed a six-week abortion ban following Roe's overturning, but a judge ordered the ban to be blocked in October, pending a legal challenge that the bill violates state privacy laws. Abortion is currently legal for fetuses up to 20 weeks old in Ohio.
In November, the Georgia Supreme Court reinstated its statewide abortion ban at six weeks of pregnancy.
Abortion was one of the top voter issues heading into the 2022 midterms, and in January, an NPR/Ipsos poll found that three in five Americans feel abortion should be legal in all or most cases. Nearly 70 percent of the poll's respondents also said they would support voting on the issue of abortion using a ballot measure or voter referendum at the state level, like Kansas voters did in August.
Update 3/17/23, 4:20 p.m. ET: This story has been updated with comment from Planned Parenthood.