The FBI is offering a $15,000 reward for information resulting in the arrest of a Florida man accused of thrusting a riot shield into an officer's throat and punching others during the January 6 Capitol insurrection.
Jonathan Daniel Pollock, 23, of Lakeland, Florida, has evaded law enforcement since being charged in June 2021 with multiple felonies stemming from his alleged role in the riot. Even after prosecutors have brought hundreds of charges against members of the mob that stormed the Capitol, law enforcement are still tracking down those allegedly involved over a year later.
"The allegations against him aren't going away and must be dealt with," FBI Tampa Acting Special Agent in Charge Sanjay Virmani said in a statement. "The FBI is patient but determined to bring to justice those responsible for the violence at the U.S. Capitol on January 6."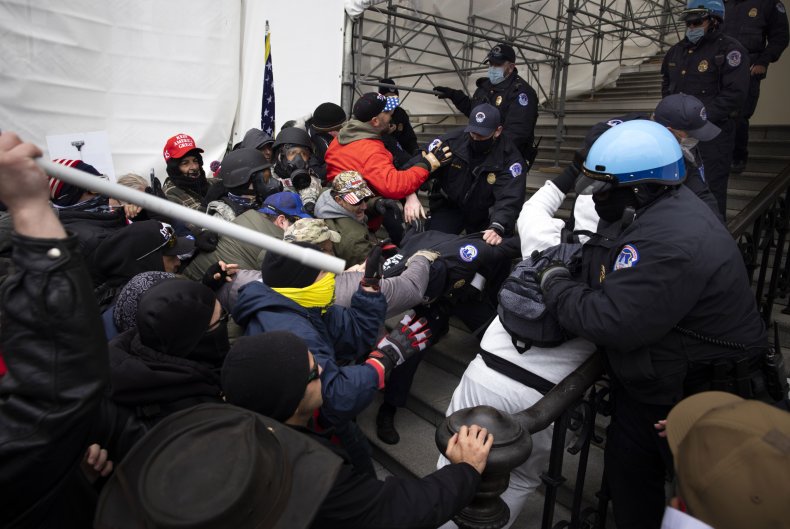 Federal prosecutors said that Pollock arrived at the Capitol, along with four other Florida residents, clad in a ballistic plate-carrier vest and other tactical gear.
Shortly before 2 p.m. local time Pollock and his younger brother charged a line of police on the west side of the Capitol, brandishing flagpoles and yelling "Let's go" as he attempted to force his way past a metal barricade, prosecutors state. Pollock pulled an officer down a set of steps, kneed and punched another in the face, in addition to pushing a third in the neck, prosecutors allege.
Nearly an hour after first charging the police line, Pollock was on the ledge of the upper west terrace when he grabbed an officer by the shoulders and tried to pull him over the railings, according to prosecutors.
Pollock also allegedly pulled a riot shield away from the police line guarding the Capitol and thrust it into an officer's throat, according to prosecutors.
FBI agents later identified Pollock from social media posts, which law enforcement used to track down other suspects in the widely documented riot.
After the riot, Pollock returned to work and showed off photos of himself at the Capitol, bragging to co-workers about having been on the news, according to the affidavit for his arrest. The second day after returning to work, Pollock left after reporting a family emergency and did not return, the affidavit states.
The FBI said in the statement announcing the reward they believe Pollock has friends and family in central and north Florida, as well as in Georgia, South Carolina, North Carolina, Tennessee and Texas. Pollock is a welder and iron worker and the FBI suspect he may be working other constructions jobs.
The FBI said tips can be submitted online at tips.fbi.gov or by calling 813-253-1000.
Newsweek has reached out to the FBI for comment.