A father in Fort Lauderdale, Florida, has been accused of shoving a female student at his daughter's high school in an altercation stemming from his disapproval of the school board's face mask policy.
Dan Bauman, who had been trying to bring his daughter to Fort Lauderdale High School without a mask in protest of the policy, was arrested Wednesday after allegedly pushing another student outside the school, police said.
Over the past few days, the 50-year-old father had been recording his attempts to accompany his daughter to school, Miami TV station WTVJ reported. She was repeatedly turned away. He was outside the high school again on Wednesday morning when another student confronted him, according to police.
"Bauman was videotaping other students with his phone and causing a disturbance at the gate," a Fort Lauderdale police spokesperson said.
According to the arrest report, the student, who "did not want to be videotaped," said, "I've had enough for four days." She then approached Bauman—who police said was "known to cause disruption due to protesting the school board's mask policy"—to grab his cellphone while he was recording.
Fort Lauderdale police said Bauman proceeded to push the student by the shoulder, before grabbing her hand and twisting her arm. The report said an officer and security guard had to pull Bauman away from the girl.
He was immediately taken into custody and charged with aggravated child abuse, according to online jail records. If convicted, he faces a maximum 30-year sentence and a $10,000 fine.
A Fort Lauderdale Police Department spokesperson told Newsweek the incident was captured on the officer's body camera. Police will not be releasing the footage at this time because the case remains an open and active investigation, the spokesperson said.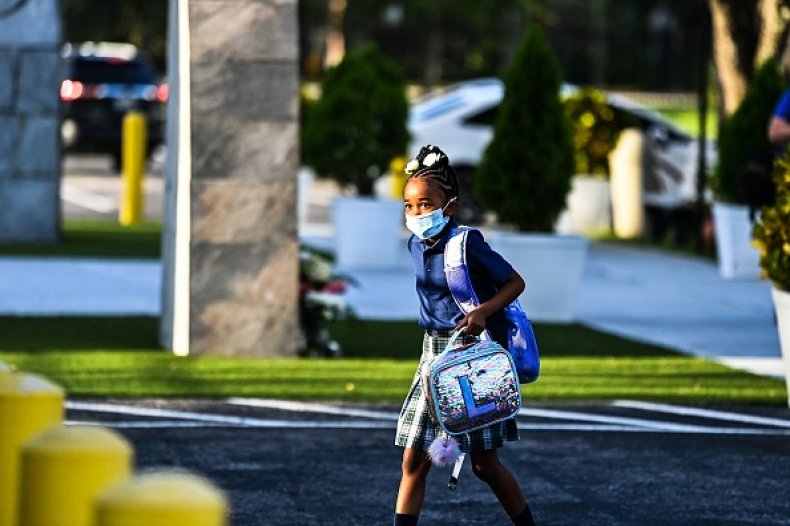 Broward County students began school last week with a mask policy in place, despite threats from state officials who are trying to keep schools from implementing their own mandates.
In a previous interview with WTVJ, Bauman said, "I don't care, the school board policy is illegal, and she's not gonna put on a mask. No matter what, it's not gonna happen."
The state had given Broward and Alachua counties until Tuesday to end their mask mandates. But Broward County Public Schools is refusing to reverse its policy, arguing that school districts have the authority to impose dress-related requirements under Florida law.
"What we have stated to them is that we do believe that it is an overreach of their authority, that we are legally compliant, and we have respectfully requested that they rescind the order," Broward's interim schools superintendent, Vickie Cartwright, said in a statement.
The board argues that parents do not have the right to send their kids to school without masks, as it would infringe on the rights of parents who want their kids to be protected from the coronavirus's highly transmissible Delta variant. That strain has caused soaring infection cases and record-breaking hospitalizations across the state.
According to the county's latest report, Broward hospitals had reached 92 percent capacity as of Tuesday.
While the school district has received some backlash for the mask mandate from residents like Bauman, Fort Lauderdale High's class president, Raymond Adderly, told Miami's WFOR-TV that most students support wearing masks at school.
"Our local school district thinks the best way to protect our students is by a mask mandate. Every student here this morning is going to support that and has been doing so diligently. One student does not speak for all of us," Adderly said.
Update (8/25/2021, 4:23 p.m. ET ): This story was updated with additional information from the Fort Lauderdale Police Department.