Donald Trump mocked Ron DeSantis at two conservative summits attended by both Republican presidential hopefuls on Friday, saying that the Florida governor had fallen "like a very badly injured bird from the sky" and accusing him of plagiarizing his slogans.
Trump made the remarks at separate Washington DC summits hosted by the Concerned Women of America (CWA) and Family Research Council (FRC). Both groups are part of a Christian conservative community that could be key in determining who wins the 2024 GOP presidential nomination.
Polling indicates that Trump has built up a firm lead over DeSantis, his nearest rival, with Republican voters in his bid to represent the party again at the 2024 election. One recent survey, conducted by The Wall Street Journal, found 59 percent of Republicans said the former president would be their preferred candidate, versus just 13 percent for DeSantis.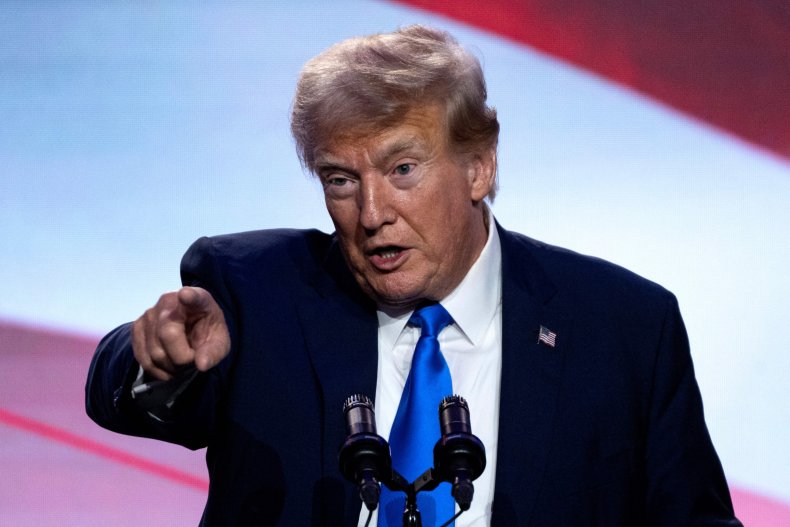 Trump launched a number of attacks on DeSantis on Friday as he intensified what has, at times, been a bad-tempered election contest, though the Florida governor has largely avoided responding in kind.
Speaking at the CWA's approved leaders summit, Trump branded DeSantis, who he nicknamed DeSanctimonious, a copycat and said that he was mimicking the way he throws baseball caps to supporters.
The former president said: "We are a failing nation, we are a nation in decline and, by the way, those are two phrases that Ron DeSanctimonious uses all the time. Do you notice? He says we are a failing nation, a nation in decline. They're pretty unique statements, but to use them all the time and, you know what, he can use them.
"And he also throws hats," Trump said. "Do you notice the hats? He's throwing hats and he does it the same way. He gets low and he flicks his wrist like that. We don't like these copycats, do we? It's crazy. You know, I don't do the hat thing anymore."
Footage was posted on X, formerly Twitter, by the Acyn account, which shares videos from U.S. politics.
During the FRC Pray Vote Stand summit, which Trump addressed on Friday evening, he said DeSantis had fallen "like a very badly injured bird from the sky."
Trump also referenced a recent Fox News poll, which put him ahead of DeSantis with GOP voters by 53 percent to 13 percent, commenting: "We're beating DeSanctimonious by a lot."
When DeSantis spoke at the two events, he avoided direct attacks on Trump, concentrating instead on his record as governor.
Addressing the FRC summit, DeSantis was cheered after saying he insisted Florida churches must be allowed to remain open during the coronavirus pandemic, regardless of what restrictions were imposed in other states. He said: "We protected our religious institutions when so many states were running roughshod over people's rights to practice their faith in full."
DeSantis added that he had signed a bill banning abortions over six weeks in Florida, with exemptions for rape and incest, as long as the woman can provide documentary proof, such as a police report or restraining order.
As president, Trump appointed three Supreme Court Justices who were instrumental in overturning Roe v. Wade, which guaranteed the constitutional right to an abortion, in June 2022. Polling shows that the former president remains popular with evangelical conservatives. This is despite a civil court case in June concluding he had sexually abused writer E. Jean Carroll, who was awarded $5 million in damages. Trump strongly denies any wrongdoing in the matter.
Newsweek has contacted Donald Trump and Governor DeSantis for comment, via official press inquiry form and email respectively.