Donald Trump did not suggest supporting Florida Representative Matt Gaetz's proposal to remove Kevin McCarthy as House Speaker while praising the under-fire California Republican.
Speaking at a campaign stop in Ottumwa, Iowa, on Sunday, the former president said it was too early to comment on Gaetz's threat to oust McCarthy as Speaker of the House of Representatives by introducing a motion to vacate, following the passage of a stopgap funding bill to prevent a government shutdown that was backed by the Democrats.
Gaetz had previously threatened to remove McCarthy as House Speaker over the negotiations to prevent a government shutdown, as well as what the Florida congressman saw as delays in launching an impeachment hearing into Joe Biden's business dealings amid allegations involving his son—a step McCarthy recently took in what was seen as an attempt to appease the hardline members of the GOP. The claims—of improper influence and corruption—have been denied by the White House.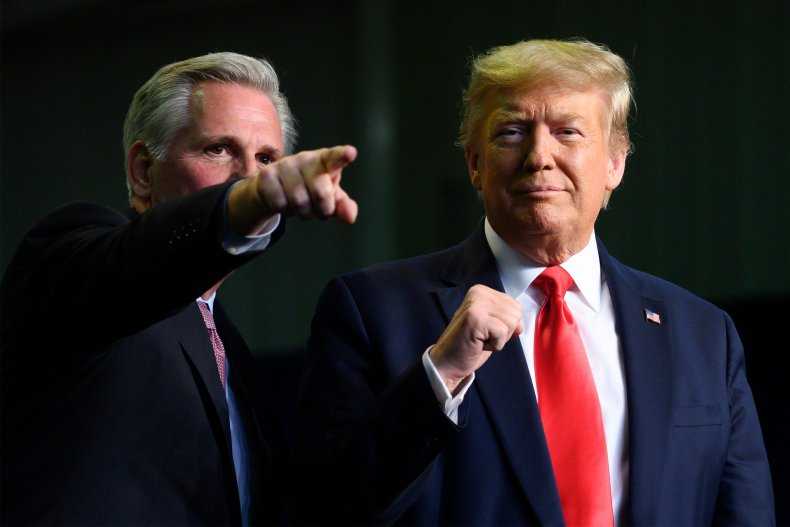 When asked if he would support Gaetz's proposal to remove the House Speaker, Trump remained on the fence but praised McCarthy for his support.
"I don't know anything about those efforts, but I like both of them very much," Trump told reporters in Iowa.
"I think it's too early [to comment], it just happened a little while ago. I've always had a great relationship with [McCarthy], he said very nice things about me and the job I've done, so I appreciate that."
Gaetz's office has been contacted for comment via email.
Gaetz said that he intended to file a motion to vacate against McCarthy sometime this week, telling CNN on Sunday "we need to rip off the Band-Aid" and "move on with leadership that's trustworthy."
The MAGA congressman was among the group of Republicans who refused to vote for McCarthy to become House Speaker in January, with McCarthy eventually getting reelected on the 15th attempt.
One of the concessions McCarthy made to persuade members of his party to back his reelection bid was changing Congress rules so that just one member could introduce a motion to vacate and force a vote on removing the Speaker, which would then only require a simple majority in the House to pass.
Due to the GOP's razor-thin 221-212 majority in the lower chamber, only five Republican lawmakers would need to defect in order for the motion to pass if all other representatives vote along party lines.
Florida GOP Representative Bryon Donalds, who was nominated for Speaker in a number of rounds of voting by his fellow Republican lawmakers in January, said that McCarthy's position is "trouble" but he himself has not decided whether he would back a motion to vacate.
"Frankly, I don't know right now," Donalds told Fox News on Sunday.
"I've got to really think about that, because there's a lot of stuff going on in that building that's behind us. What Democrats do, I can't even speak to it right now."
New York Democratic Congresswoman Alexandria Ocasio-Cortez said she "absolutely" would vote in favor of a motion to vacate McCarthy as House Speaker having previously backed House Minority Leader Hakeem Jeffries for the role.
On Saturday, McCarthy said he was not concerned by efforts to remove him as House Speaker, suggesting the attempts are merely a "personal" issue between him and Gaetz.
"Go ahead and try," McCarthy said. "You know what? If I have to risk my job for standing up for the American public, I will do that."