A dispute that broke out over a dog led to a toddler and two adults being shot dead at the weekend, Florida authorities believe.
A group of five people—four adults in their 20s and a 3-year-old child—had arrived at an apartment complex in Jacksonville, Florida, to discuss the animal that was being sold. It was unclear if they were buying or selling the dog, but, in any case, an argument ensued outside that erupted into violence and three of the group were gunned down, with a fourth member also shot and injured. The child was among those who lost their lives.
The incident comes amid a spate of shootings across the nation that has sparked a fierce debate about gun control. Americans have been shocked as citizens are murdered during trivial disputes, such as the death of a Subway worker in Atlanta last year following an argument about a sandwich.
The latest incident in Florida comes after several high-profile gun crimes in the state, such as an argument at a Publix grocery store that ended with a man opening fire and killing another customer in February 2022. Governor and presidential hopeful Ron DeSantis has faced political pressure over the slayings after the decision to allow gun-owners to carry concealed weapons without a government permit.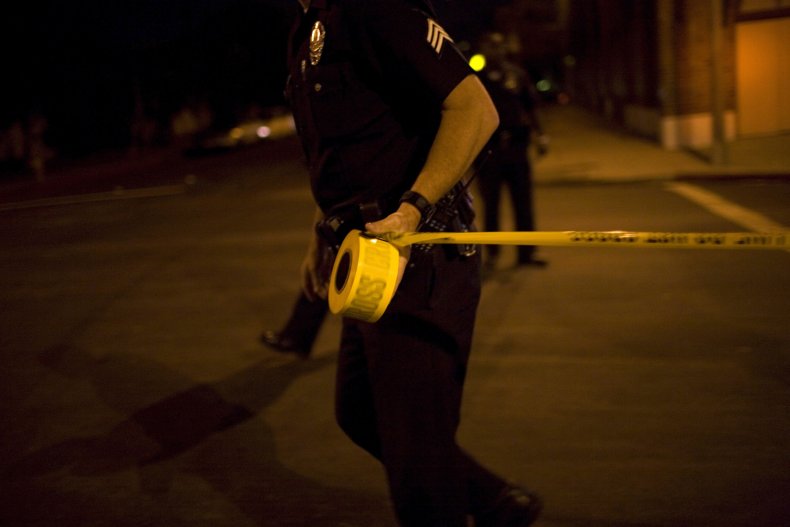 Jacksonville Sheriff's Office (JSO) Assistant Chief J.D. Stronko told reporters at a news conference late on Saturday night that the adults and child had arrived at the apartment complex at about 10 p.m. that evening. Witnesses told officers that two men were seen fleeing in a car shortly afterward, he added.
The sheriff's office shared the footage of the press conference on its Facebook page.
Stronko said: "Just after 10:00 p.m., patrol units were dispatched to complaints of shots fired at an apartment complex in the 8800 block of A.C. Skinner Parkway. Upon arrival, they determined that five victims—four adults as well as a 3-year-old child—had traveled to the apartments, possibly to conduct the private sale of a dog.
"For reasons that are unknown to us at this time, a dispute ensued in a breezeway between two of the apartment buildings, resulting in four of the five individuals being shot.
"Of those individuals shot, three are now deceased, that includes the 3-year-old child who traveled there with them.
"Suspect information is limited at this time, but witnesses did report that two unknown Black males were observed fleeing the scene, possibly in a black Sedan.
"Detectives from the homicide unit are on scene and interviews with victims and witnesses are ongoing. I want to ask anybody in the area, especially due to the late night hour, who might have information regarding this incident to reach out to JSO directly, or if they wish to remain anonymous they can contact us via Crimestoppers."
Details remain sparse about the incident as detectives investigate the killings.
Stronko did not reveal the identity of the victims, and did not comment on the status of the injured victim.
Newsweek reached out to Jacksonville Sheriff's Office by email on Monday seeking further information and comment.