Florida's Governor Ron DeSantis was favored for a second year over former President Donald Trump to be the Republican Party's 2024 presidential nominee at an annual conservative conference.
The Western Conservative Summit has been held in Colorado since 2010. The event is organized by the Centennial Institute at Colorado Christian University, which is located in Lakewood, immediately west of Denver. Summit organizers conduct a straw poll at the event to gauge attendees' preferences for who should be the next presidential candidate.
This year, DeSantis was the frontrunner, with the backing of 71.01 percent of respondents. Trump came in close behind in second place with the support of 67.68 percent. Senator Ted Cruz of Texas was in third place (28.73 percent) and Ben Carson, who served as Trump's Secretary of Housing and Urban Development, came in fourth (24.15 percent).
Because voters were allowed to make more than one choice, through the approval voting method, the percentages of the poll added up to more than 100 percent. Poll conductor Frank Attwood told Colorado Politics last year that the decision to use the approval voting method "minimizes spoilers and sabotage and gives viability and visibility to minor candidates."
The results of the 2022 summit straw poll were similar to those of 2021, although support for both Trump and DeSantis dipped slightly. Last year, DeSantis narrowly won the straw poll at the conservative conference, beating out Trump for first place. The Florida governor led the poll with 74 percent of voters saying they approved of him as a presidential candidate, just ahead of the former president's 71 percent support.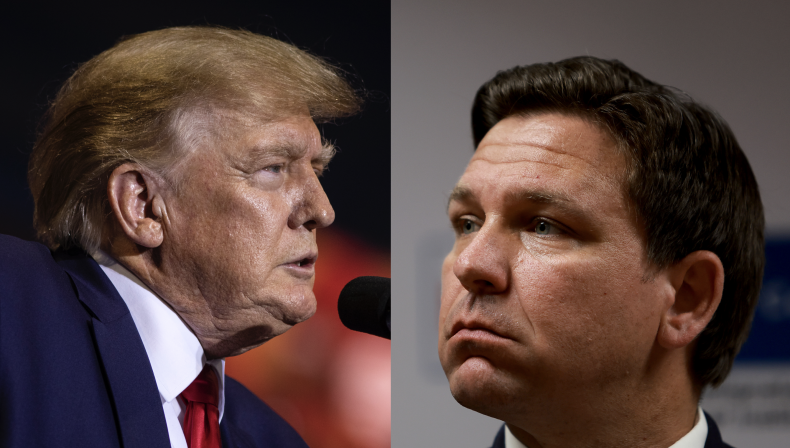 The Centennial Institute states on its website that it aims to "impact our culture in support of traditional family values, sanctity of life, compassion for the poor, Biblical view of human nature, limited government, personal freedom, free markets, natural law, original intent of the Constitution and Western civilization." Additionally, the institute says its goal is to "be seekers of truth and to debunk 'spent ideas' and those who traffic in them."
A Wisconsin straw poll of GOP activists in May also put DeSantis ahead of Trump. Of those 325 Republicans in the midwestern state, the Florida governor garnered the support of 38 percent compared to just 32 percent who backed Trump. Former South Carolina Governor Nikki Haley, who served as Trump's ambassador to the United Nations, came in distant third, with 7 percent.
Recent national polls of Republicans have generally shown Trump as the clear frontrunner for the party's 2024 presidential nomination if he chooses to run. DeSantis is often in second place.
A February poll conducted by Rasmussen Reports found that nearly half (47 percent) of likely GOP voters would back Trump for the party's nomination in the next presidential election. DeSantis came in second, although he was well behind Trump with only 20 percent. Notably, prominent Trump critic GOP Representative Liz Cheney of Wyoming came in third with 7 percent.
However, a May survey by Harvard CAPS-Harris Poll found substantially lower enthusiasm for Trump. In that poll, just 30 percent of respondents said they'd back Trump in a hypothetical 2024 GOP primary run. Meanwhile, DeSantis still trailed Trump by double-digits at 8 percent. Former Vice President Mike Pence came in third with 7 percent.
Update 6/5/22, 8:48 a.m. ET: This article was updated with information about a recent Wisconsin straw poll of Republicans.