A civil rights group is pushing back against a Florida sheriff who arrested a 10-year-old boy for allegedly threatening to shoot up an elementary school just days after the deadly mass shooting in Uvalde, Texas.
Lee County Sheriff Carmine Marceno said in a news release that the May 28 arrest of the fifth-grade student was part of an effort to maintain "law and order in our schools." The Lee County Sheriff's Office released multiple images of the student and his name after the arrest. The boy's family may pursue legal action against Marceno for what they say was heavy-handed treatment for political gain, with help from the group Foundation Against Intolerance and Racism (FAIR).
"Sheriff Marceno is indiscriminately enforcing his law-and-order agenda," Letitia Kim, FAIR's director of legal affairs, told CBS affiliate WINK in a report published on Thursday. "There was no threat of any kind and that has unfortunately had very serious, tragic and permanent consequences."
The boy, who attends Patriot Elementary School in Cape Coral, was charged with making written threats of a mass shooting. Police say that he threatened to commit a mass shooting in a series of text messages to a friend. Kim said that the boy's messages did not contain any kind of threat but did include Google images of assault rifles.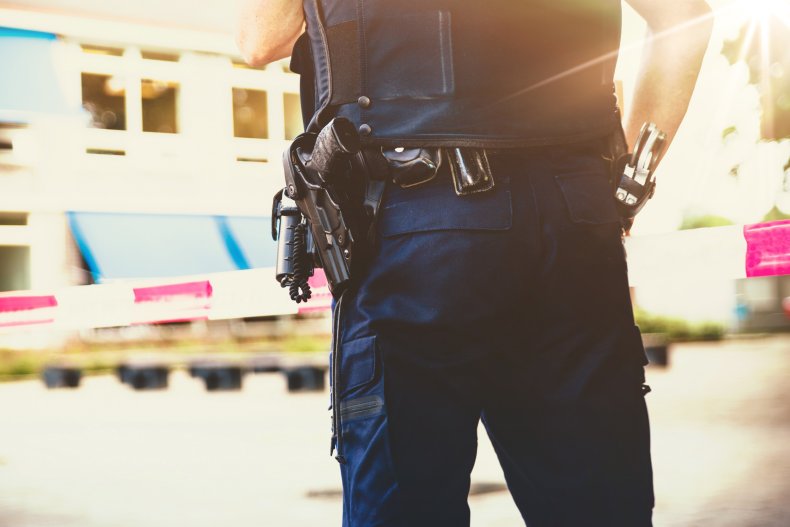 The boy remains in juvenile detention and is expected to appear in court on June 13. Despite accusations of a real crime, Marceno seemingly deemed the text messages to constitute a "fake threat" at the time of the arrest.
"Right now is not the time to act like a little delinquent," Marceno said in a statement on May 28. "It's not funny. This child made a fake threat, and now he's experiencing real consequences."
A 22-second video of the boy being led by an officer with his hands behind his back, which was released to Facebook alongside Marceno's statement shortly after the arrest, provoked some backlash.
"This is bananas," one Facebook user wrote in response to the video. "When people talk about defunding the police, this is why. The sheriff has already determined that the threat was fake but made a choice to plaster his name and image on social and traditional media. None of that makes anyone safer."
The boy's father has reportedly insisted that no threat was made and expressed concerns that "poor judgement" from law enforcement may have put his son "in danger."
In response to criticism about sharing the 10-year-old's "perp walk" and unblurred mugshot, Marceno told Fox affiliate WFTX that he was "not in the business of being upset because a very small percentage is upset to show a 10-year-old's face or the perp walk."
"He's repeatedly called himself the law-and-order sheriff," Kim said of Marceno. "And it says that his platform is, 'fake threat, real consequences,' but I think what we have here is a warped mash-up of that, which is fake law and order, real consequences."
Marceno defended his actions in comments to WINK, maintaining that the way the arrest was handled was "not for political gain."
"I believe in one thing, and that is law and order," the sheriff said. "I believe at the end of the day, it is my absolute responsibility when I took office, which has always been my top priority, safe kids, safe schools. Now, if the dad or someone else believes it's political gain, that's their belief."
In a statement to Newsweek, FAIR founder and President Bion Bartning called for Marceno's resignation and said that the group was working to reunite the boy, who was identified as "Daniel," with his family.
"We believe that in these dangerous times, no real threat should go unexamined," Bartning said. "But in this case the 'threat' by an innocent 10 year old boy was made up by Mr. Marceno, an attention-seeking politician who doesn't know the difference between right and wrong."
"We're working hard to restore Daniel's civil rights and get him back into the arms of his loving family," added Bartning. "And Mr. Marceno, having proven that he's unfit for the role of Lee County Sheriff, should resign."
Newsweek reached out to the Lee County Sheriff's Office for comment.
Update 06/10/22, 4:18 p.m. ET: This article was updated with additional information and background.