A 5-year-old boy has died after eating the seeds of the rosary pea, a highly toxic plant. The boy died within 24 hours of ingestion, but his 7-year-old brother, who was in critical condition after eating seeds from the same plant, was saved after being admitted to a hospital in New Delhi.
Rosary peas, scientifically known as Abrus Precatorius, are one of the most poisonous plants on the planet. While they are native to India and parts of tropical Asia, the plant can be found throughout Florida and Hawaii and is often used by gardeners as ornamental vegetation. In India, the plant is known as Ratti or Gunchi.
The poison itself, abrin, is one of the most potent toxins known to man. It is 30 times more lethal than ricin, a poison derived from castor beans that made its way into popular culture thanks to the hit cable-TV series Breaking Bad. Swallowing a single, well-chewed rosary pea seed is enough to kill a human, and there is no known antidote.
Abrin is so deadly that it is comparable to the venom of some of the most deadly snakes in the world. With a lethal dose of somewhere between 0.01 and 0.1 milligrams per kilogram of body weight, it can kill more effectively than the bite of a king cobra, which has a lethal dose of roughly 0.9 milligrams per kilogram.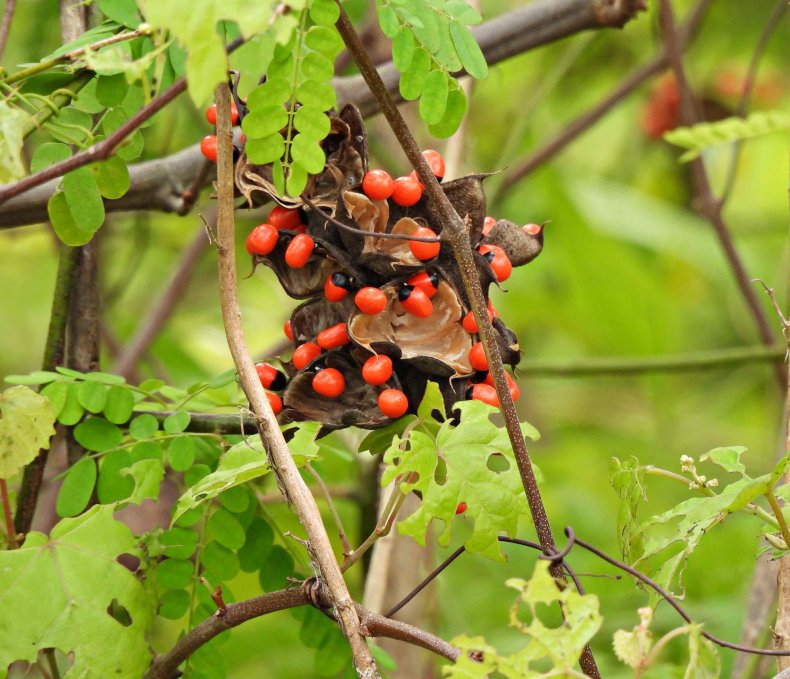 Abrin works by preventing cells in the body from making the proteins that they need to function, which eventually causes cell death. The symptoms of swallowing a lethal dose can include vomiting, bloody diarrhea, hallucinations, seizures and organ failure, according to the U.S. Centers for Disease Control and Prevention. These were some of the symptoms displayed by the two boys in India.
Describing the older boy in a statement, Dr. Dhiren Gupta, a senior consultant at the Sir Ganga Ram Hospital in New Delhi, said, "The child was unconscious, irritable, suffering from encephalopathy—swelling in the brain—and unstable vitals: high pulse rate with shock."
While there is no known antidote, emergency medical care can mitigate the effects of the poison, Gupta said. This care can involve medications to treat seizures and low blood pressure, as well as assisted breathing and intravenous injections.
The surviving boy has now been discharged from the hospital and is in stable condition.
Do you have an animal or nature story to share with Newsweek? Do you have a question about snakes? Let us know via nature@newsweek.com.