Rep. Frederica Wilson of Florida had harsh criticism for the U.S. Border Patrol on Sunday amid backlash to the agency's handling of Haitian migrants.
Wilson appeared on the local news program, This Week in South Florida, to discuss the ongoing issue, reiterating her strong and vocal criticism from the past week. The congresswoman represents Florida's 24th District, which encompasses parts of the Miami metropolitan area and, according to Local 10, is home to the largest population of Haitian immigrants in the U.S.
"The Border Patrol are leftover racist white men who do not like immigrants, and what really made them angry is that these were Black immigrants," Wilson said.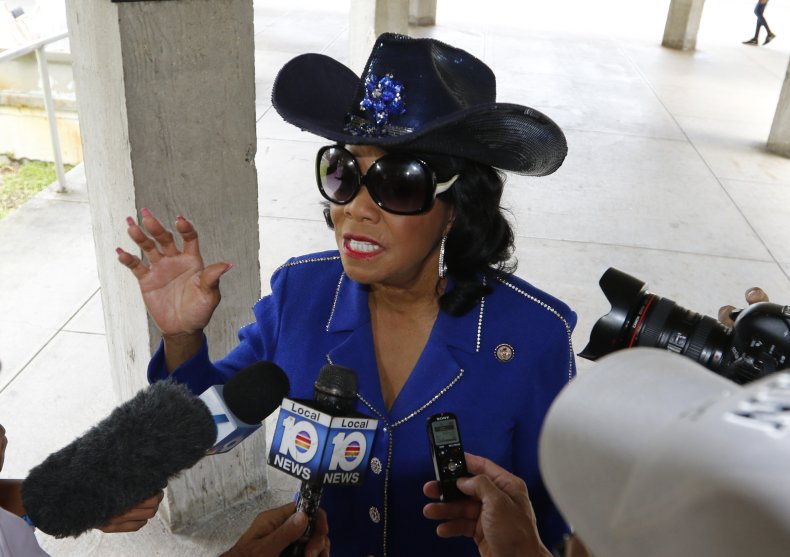 Wilson later discussed her past criticism of the Border Patrol for keeping migrant children in cages and alleged that she required a security detail due to the violent threats that these comments brought upon her.
"I'm a victim of the Border Patrol myself," she said. "For two years, I was under strict security because of the Border Patrol and because of the way they were treating the children who were in the cages. I said they should be arrested, and I began to get calls to my home that they were going to kill me."
Wilson was elected to the U.S. House of Representatives in 2010 for the state's 17th Congressional District, after serving in the Florida State House and Senate for multiple terms dating back to 1998. In 2012, her jurisdiction was reclassified as the 24th District.
Newsweek reached out to U.S. Customs and Border Protection for a response to this story, but did not hear back in time for publication.
The Border Patrol became embroiled in a new controversy on Tuesday when pictures and videos emerged allegedly showing agents on horseback using their leather reins to whips Haitian migrants near the U.S.-Mexico border. While some have counterclaimed that the agents did not actually whip anyone, the allegations nonetheless drew swift and strong criticism from many.
Rep. Maxine Waters of California on Wednesday compared the accusations to the horrors of slavery, given the connotations of whipping and the fact that most of the migrants were Black. She also expressed disapproval of President Joe Biden's handling of the situation at the border.
"What we witnessed takes us back hundreds of years. What we witnessed was worse than what we witnessed in slavery," Waters said during a press conference. "Cowboys with their reins, again, whipping Black people, Haitians, into the water where they're scrambling and falling down when all they're trying to do is escape from violence in their country.… I'm pissed. I'm unhappy; and I'm not just unhappy with the cowboys, who were running down Haitians and using their reins to whip them. I'm unhappy with the administration."