Blast It! Just Light The Fuse – New Year's 2022
Be Safe, Improve Your Fireworks Skills, And Legally Blast It! For 2 Whole Days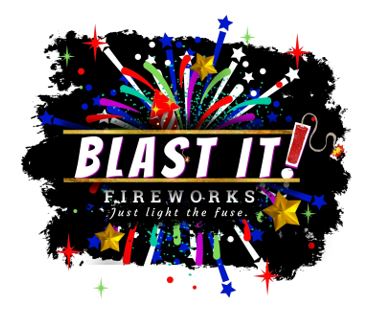 Crystal River, Florida, 6 Nov 2021, ZEXPRWIRE, Blast It! Fireworks, LLC is trending on the block in Citrus County, specifically, 1321 SE Hwy 19, Crystal River, Florida. After many years of watching outsiders come into Citrus County and take our money back to where they came, a few locals said, "Blast It! we can do better". A Citrus County locally owned Fireworks business was born.
Blast It! Fireworks teamed up with a local charity to donate a portion of their proceeds to give back to the city they live and work. They also want to provide a curated, educational experience, unlike the other tent retailers.  Guests have access to lessons on creating a fused firework show that they can sit back and safely enjoy. Speaking of safety, they also offer curbside pickup.
Want to get a discount? Do a Tik Tok challenge, participate in the photo scavenger hunt with your friends and family, take a selfie with our Blast It! sign and share it, mention or hashtag it. Everyone can earn discounts by capturing the different QR Codes on signs placed around town.
Now the legal jargon, The Designated Holiday law defines 'when" Blasting fireworks into the air is legal. Only one day is allowed for Independence Day, July 4th, but are free to Blast It! for two whole days during New Year's, Dec. 31, AND Jan.1st. For the rest of the year, sparklers and fountains are ok. Although an HOA board can't make you comply and restrict your right to use fireworks if it's not in the covenants, you should probably check with them first. But while you have the two-day opportunity, you have the choice to make memories and give back to your community with Blast It! Fireworks, or hand your hard-earned money to an out-of-town business, to be spent elsewhere.  First-Come, Hot selections are available online now with curbside pickup from Dec. 10-25th. The tent is open to the public from Dec. 26-Jan. 1, 2022. Their website is www.Blastitfireworks.com. To speak with them call Tammy at 352-535-0775