President Joe Biden took a jab at Florida Governor Ron DeSantis Wednesday after the governor's presidential campaign launch was overshadowed by technical difficulties.
The Republican governor has been long expected to run in the 2024 GOP primaries and planned to formally enter the race during a conversation on Twitter Spaces Wednesday evening. The live-streamed event, however, was plagued with mishaps, causing the social media app to crash several times within the first 20 minutes of conversation between DeSantis and his co-hosts, Twitter CEO Elon Musk and Craft Ventures co-founder David Sacks.
Biden mocked DeSantis' campaign launch over Twitter shortly after the event began, tweeting out a link to his re-election campaign with the comment, "This link works."
The Twitter Spaces live stream was set to begin at 6 p.m. EST, but by 6:15 p.m., the event had been taken off the server after several minutes of glitches and deafening feedback. At 6:20 p.m., Musk restarted Twitter Spaces and DeSantis was able to officially announce his bid.
Newsweek contacted DeSantis' campaign via email Wednesday evening for comment.
Former President Donald Trump, who is the current front-runner for the 2024 Republican primary, also took a hit at DeSantis in a video shared to his Truth Social account. The 45-second video switched between video clips of Trump's campaign announcement last November and snippets of DeSantis' live stream from Wednesday night. Trump launched his campaign bid at an event hosted at his Mar-a-Lago estate shortly after the 2022 midterm election.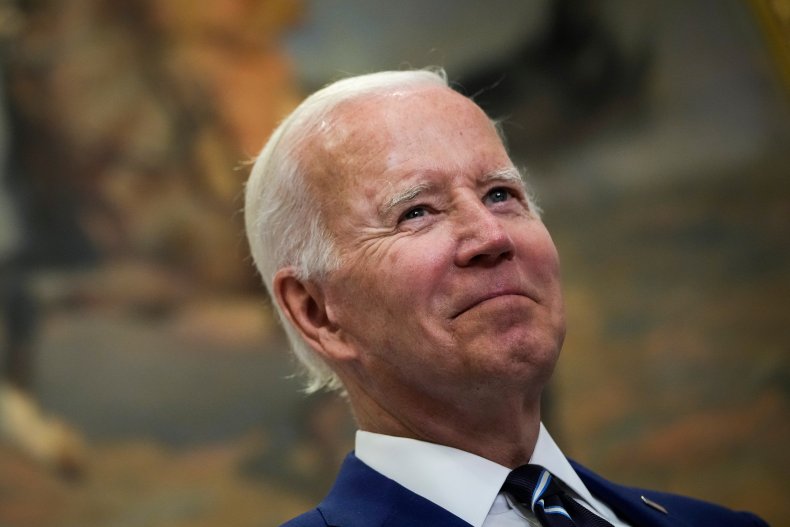 The three men are currently leading hypothetical polls heading into the next presidential election. Biden, who announced his re-election campaign last month, is being challenged by Robert F. Kennedy Jr. and Marianne Williamson, but polling data shows the president well ahead of his opponents. A recent survey conducted by Fox News found Biden enjoying a 46-point lead over Kennedy, a well-known anti-vaccine activist, and a 54-point lead over Williamson, a 2020 presidential nominee.
Trump has also held a consistent lead over DeSantis leading up to the governor's announcement. The most recent Morning Consult poll gave the former president a 38 percent lead over DeSantis, with 58 percent of Republican voters favoring Trump in the next presidential election.
Former Vice President Mike Pence is also challenging his ex-running mate in the next election but has been trailing both Trump and DeSantis in pre-election polling, winning only 6 percent of voters in the same Morning Consult survey.
Some polling numbers have shown DeSantis as having a higher chance of beating Biden in 2024 in a few key swing states, however, including an April survey from the GOP firm Public Opinion Strategies, which found that DeSantis would beat the president by a few percentage points in Pennsylvania and Arizona. The same data showed Biden defeating Trump in the swing states, much like the president did in 2020.
Recent polling data compiled by Real Clear Politics show Trump holding less than a full-point lead over Biden. A Quinnipiac poll conducted over the week found Biden to hold a 2-point lead over his hypothetical opponent, while Trump took the lead in a Harris and YouGov poll conducted earlier this month. Overall, Real Clear Politics puts Trump at a 0.8 point lead over Biden in a hypothetical matchup.
Update 05/24/23 8:21 p.m. ET: This article was updated with additional information.